Nov 25 , 2015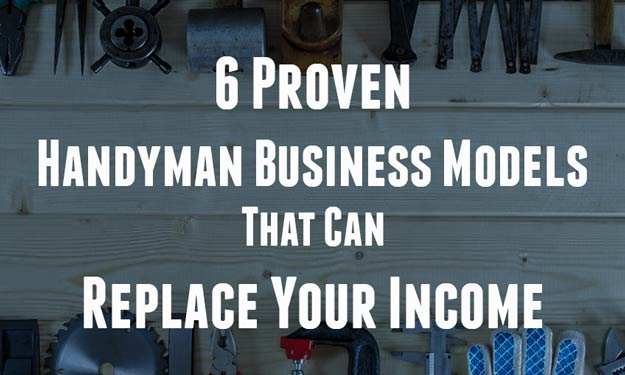 The handyman business is surprisingly versatile.
While most outsiders will assume that all handymen are the same, that couldn't be further from the truth.
In fact, in the seven years I've been a professional handyman, I've seen a wide array of businesses in this industry and had the opportunity to speak with several handymen who have carved out interesting (and profitable) niches for themselves.
Each niche has some unique benefits and some disadvantages as well. Some are more profitable. Some are easier to setup. Some require very little experience. And, some of them might even surprise you.
In this post, I'll provide some insight into each handyman business model for those still trying to visualize themselves as professional handymen.
Maybe this will be that little spark of insight you need to start your journey in building that business you've always wanted.
#1 The "Do It All" Handyman
When I say do it all, I literally mean everything.
I recently spoke with a contractor from Atlanta who prides himself on serving all of the customer's home needs. Doesn't matter what it is.
Whether it's plumbing, electrical, a remodel, a leaky faucet, or just mowing the lawn.
The goal of his "We do it all" approach is to provide the customer with the benefit of never having to call another contractor or handyman. That means he keeps them in his little web.
By providing small repairs and maintenance at no charge, this model cashes in on the bigger jobs like remodels and additions.
Although this used to be more common, it's pretty rare now due to complexity and contracting laws. In order to pull this off legally in most states, you'd need to have dozens of different trade licenses. Additionally, as homes get more advanced, many improvements require specialized knowledge.
It does have it's advantages though. You can stay busy while working for only a few clients, there is a lot of variety in the projects you take on, and you practically become family to those you serve.
#2 The To-Do List Handyman
This is a unique style of handyman business that I didn't even know existed until I interviewed Jim Copenhaver from Chicago. Since, I've tried it in my own business with success and have seen many others take this approach.
This model takes advantage of the opportunity created by our overly busy lives.
Busy working parents simply don't have the time (or skills) to take care of simple repairs and maintenance, wealthy people simply don't want to, and the elderly can't or don't want to either.
The type of work usually includes hanging pictures, painting an office, hanging shelves, adjusting doors, and countless other small things that can be repaired or improved on a home.
Since this model only requires basic handyman skills, the barrier of entry is pretty low fro a skill perspective. A handy teenager could easily start this type of business.
Typically, a handyman using this model will charge by the hour, by the day, or even by the half day. I've heard of some using price lists for all of these small repairs and providing a quote first, but to me it just does NOT make sense.
As long as you've set a profitable hourly rate, it's much more efficient for you and transparent for the customer to charge based on time since there is such a wide variety of to-dos.
#3 The Niche Handyman
Don't assume that in order to start a handyman business you have to do everything. In many cases it can actually be more profitable to specialize.
For example, you can start a business just mounting TV's. I've seen it done many times.
Or a business that just installs trampolines. Or a business that just focuses on pressure washing.
Of course, there are also the more common specialties like painting, window cleaning, Electrical, or plumbing.
This business model has several advantages:
It's efficient since you only need limited tools and get very fast after doing the same work repeatedly.
It's much easier to do flat rate pricing which can be more profitable than charging by the hour.
Many people want to hire the best of the best. By specializing, you'll likely surpass the generalist in skill and knowledge for your specialty.
It can be easier to scale and hire employees if that's your goal.
It can be more profitable.
However, this type of business will typically require better marketing skills in order to stay busy. Since you are only doing a very specific service, you will need more customers than a "to-do list" or "do it all" handyman since you won't have as much repeat business. Customers will only need a trampoline or TV installed every few years at the most.
#4 The "Cherry Picker" Handyman
This is the type of handymen business that cherry picks jobs based on the skill set and interests of the handyman. This is how I operate.
Basically, it's a mix between the "Do It All" and the "To-Do List" Handyman, except in this model you would only take on jobs you enjoy or are profitable. Any projects outside of your scope of work would be recommended to somebody else.
This is a common style of handyman business because of the flexibility if offers. It gives you the opportunity to quote certain jobs (and make a higher profit on those jobs), but also allows you to get the easy, but often lower paying, to-do list type of work.
Another benefit is that once you get a few repeat customers, they will keep you busy most of the time. Good marketing is still very beneficial because it brings you more of your most profitable jobs and gives you the security to charge more, but return customers will make up about 70% of your revenue.
To me, the main draw to this style is that it's profitable, enjoyable, and every day is different. The disadvantage is that it's less efficient than a straight To-Do List or Niche handyman business. You'll often have to give free quotes and do other things that eat into your efficiency and profits.
#5 The Franchise Handyman
The fifth method is investing in a handyman business franchise.
If you prefer working in the office and still want to be in the handyman industry, here's an option for you. You won't be swinging a hammer, but you can take an established brand and run with it if you're a good businessman.
This is definitely a higher risk business to start because of the upfront costs, but handyman business franchises come with all of the business systems in place plus some training so you don't need to figure it out by yourself.
Personally, I think it's too easy to setup a business yourself to pay for an expensive franchise. In this interview I discuss franchises with another handyman if you want to learn more about them.
#6 The Weekend Warrior
Let's not forget the part-time handyman business. Maybe you don't want to leave your cushy job with full benefits until you know you can make enough to support your family and lifestyle.
If that's the case, then starting a handyman business on the side is a great option. Many homeowners are more than happy to get their repairs done in the evenings or on the weekends.
The advantages are all pretty obvious with this model. The main one being minimal risk because you still have your day job to fall back on if things don't work out.
The only disadvantage is your business growth will be slowed simply because you won't have as much time to work on it. But, it's definitely better to get started slow than to not get started at all.
Conclusion
As you can see from these examples, the handyman business is one of the most flexible businesses you can run.
And, even within each business model, there is additional flexibility and can be custom crafted to fit your lifestyle and goals.
If you only want to work on the weekends, you can. If you get tired of doing certain repairs you can stop doing them. If you only want to work in a small area within your city, you can do that, too.
The flexibility is one of the main reasons I decided to start my business. I wanted the freedom of self-employment, a solid income, and the free time to pursue other interests like writing and teaching.
P.S. Are you ready to get started with your handyman business? If so, be sure to check out the
training products I've created
, where I share all of the secrets to growing a surprisingly profitable handyman business.