Dec 10 , 2015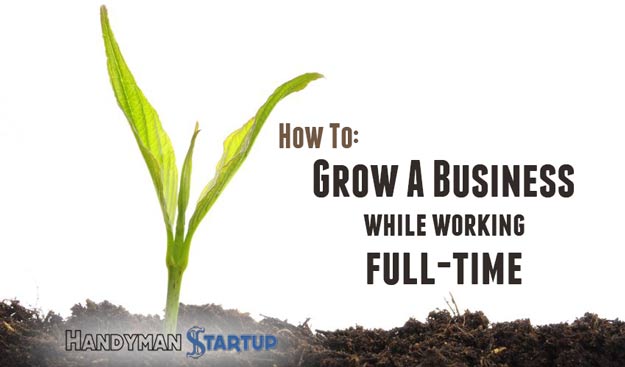 Are you ready to start a business and free yourself from the 9-5, but the thought of diving in head first and quitting your job seems too risky?
Maybe you need to support a family, pay off debt, and you just don't have the savings to help you through the transition.
I have good news.
Starting a business while you still have a job is totally doable, and it even has some unique advantages that if leveraged properly can make building your business enjoyable.
In this article, I'm going to focus on two things:  Maximizing the advantages and overcoming the challenges of starting a business while working full time so you can finally get started.
The Unique Benefits Of Your Full-Time Job
It's difficult to see how green the grass is on your side of the fence until you've been on the opposite side.
Personally, I quit my job before starting my handyman business, so I've seen the opposite side.
While not have a job worked for me, I've since realized that having one can be a powerful tool if leveraged properly.
Benefit #1
The first benefit is obvious. When you have a job you have more money!
Instead of quitting your job and living off of your savings, you can invest your savings in your business.
You can invest in business accelerating services like consulting, training, and freelancers that will dramatically improve your results and experience getting started.
This can actually help you reach your goals faster than having more time, because utilizing these tools can 10x your effectiveness. Four hours of informed and guided work can easily exceed 40 hours of guesswork.
Benefit #2
There is minimal risk involved. Even if you spend $10K and things don't work out, that's probably not going to ruin you financially.
And, if you are starting a proven business model like a handyman business, the risk of failure is very low (assuming you're willing to put in the work).
Benefit #3
You're also relieved of the time pressure to a degree. There's no need to stress and worry about turning a profit immediately.
Because of this, you can adopt a more long-term strategy. You can focus on developing skills, systems and processes instead of just making a quick buck, which, counterintuitively leads to more profit long term.
These are powerful advantages. Keep them in mind and utilize them during your startup journey.
Now, let's talk about overcoming the challenges.
Save Your Energy
Starting a business will take energy so it's important to manage it. And, since most of your energy is being taken by your current job, you'll want to scale back your efforts.
It's amazing how much energy people spend on worrying about things that don't matter. Stop doing that.
Give up your competitive overachiever attitude and just do your job. Stop trying to impress your boss. You're not going for a promotion. You aren't trying to get a raise. You're trying to build a business. 
Obviously, I'm not saying to stop doing your job completely. There's no integrity in that. I'm just saying there's no need to stay late or pick up that extra project.
The moment you decided to start a business you changed the rules of success. Stop playing by the office's rules.
Just do your job, smile, and watch the stress lift away. Save your energy and willpower for your business.
Getting Things Done in Limited Time
The most obvious challenge to growing your business is that you will have less time.
You'll just have to make the time you do have count. And, one powerful method to dong that is to block out uninterrupted time in your schedule to focus on your next step.
Ideally, you'll want to block out at least one hour of uninterrupted time every day of the week. If you can't do everyday, find a consistent schedule you can actually stick to.
Nothing will kill a dream faster than losing momentum, and momentum is easy to lose. It's absolutely critical that you schedule this time every week and stick to it.
Read this article for more tips on getting yourself to take consistent action.
Managing Your Influences
Another challenge you can expect is less obvious, but just as important. It's going to be easier to give up.
Starting a business is isn't easy. I believe that anybody can do it, but I know for a fact that it is psychologically taxing.
You're forced outside of your comfort zone. You have to put yourself in front of people. And you will be judged by your peers at work who want to keep you where you're at.
When you don't have a compelling enough reason to push through the resistance, it's easy to give up. The pain of continuing overwhelms the pleasure of pursuing your goal, you lose perspective, and you might quit.
In order to overcome this challenge, you have several options. You can create self-imposed negative consequences for not following through, you can develop a visualization practice, or you can surround yourself with others who are already running a business that you want to build.
I recommend all three.
It might seem backwards to focus on this, but success is actually an indirect result of your environment. If your current environment hasn't led where you want to go yet, it's probably not going to. Design your environment to pull you up instead of hold you down.
The Power of Mentors and Consultants
If you want the highest chances of success, utilize those who have come before you. They've already solved the problems you're working on.
Since they've already been there, they know the answers to questions you don't even have yet. They can see a path in front of you that is unknowable to you.
Not utilizing the experience, knowledge, and training of mentors and consultants is a serious waste of the most powerful tool you have available to improve your business and life.
And, since you have a consistent income, you can actually afford to invest here.
Stay in "Test Mode"
Now is the time to test different ideas you have in your business because it's low risk.
If you overbid a job and don't get it, big deal.
If you try and promote a service that doesn't resonate with customers, try something else. There is no rush or pressure.
Stay in the mindset that you are trying to replace your income. Only test ideas that support that reality.
For example, if you're pricing model isn't going to be able to replace your income, what's the point of using it? Test a more profitable one. Instead of putting a cap on your income based on your own assumptions, test it!
Use this opportunity to learn as much as possible so when you do quit your job you have the skills, insight, and confidence to really dominate.
Your Next Step
If you are ready to get started on your business, do this now. Schedule at least one hour within the next two days.
In that block of time, your main goal is to lock down a schedule that you can stick to, write it in your calendar, and identify your next action step.
The amount of time you have matters less than how consistently and effectively you work. Don't focus on everything you need to do, just focus on scheduling time to do something.
Knock down one task, then the next, then the next. Before you know it you'll have an enjoyable business that you can be proud of.
Your biggest challenge is going to be training yourself to take action. Start right now.
P.S. Are you ready to experience the freedom of your own business? If so, be sure to check out the
training products I've created
to help you accelerate your success and build a business that you love.