Jan 09 , 2014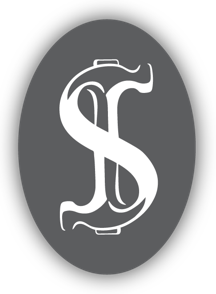 Welcome to my December 2013 monthly income report!
2013 is over and I'm now entering my third year in business. (which is kind of mind blowing)
It's been an interesting and exciting ride with plenty of ups and downs and I've certainly upped my handyman business skills since I started.
If you are new to the blog, I write these income reports each month to share my story with the hope to inspire others.  I believe that if you want it bad enough you can make a great living doing something you love and still have time left to enjoy life.
My goal is to not only achieve that for myself, but help others to as well.
In each report, I share anything interesting that happened during the month, marketing tips, and a profitable featured service that you can start offering in your business.  I also share my income and expenses.
Featured Service: Hanging Art
Yes, people pay me to hang their pictures and paintings.

I always enjoy sharing simple services because I think it shows a side to the handyman business that most wouldn't expect. Being a handyman isn't always about working under a sink and other dirty jobs. Much of it is actually pretty damn easy work. Well, that is if you are promoting the right services to the right customers.
Picture hanging is a great example of one such service that is relatively easy. As a fellow handyman, you might be thinking that it's ridiculous that people pay to hang pictures.
The truth is, for many people, hanging pictures is outside of their wheelhouse. Either that, or they don't have to because they have enough money. And, in rare cases it's because the pictures are so damn big that they need to call in a pro.
Here are some pictures of art that I've hung for my customers.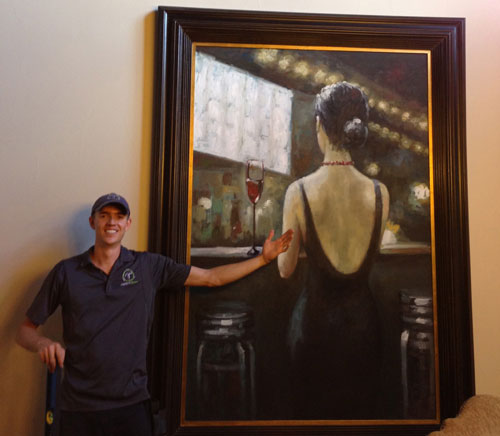 Gigantic Painting In a Dining Room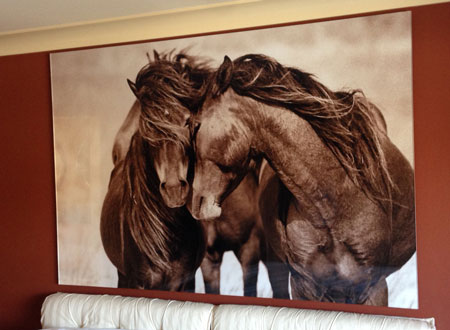 Famous photograph above a king size bed.
Both art pieces were hung for two of my best customers. These are the kind of customers that I really respect and who treat me with respect. These are the customers that make it all worth it.
In both cases I charged hourly to hang these which at the time of writing this is $60/hr.
Quick tips for hanging art.
My number one tip is to hang it perfectly. After all, that's why they are paying you. I never rush these types of projects because I always want to make sure it's perfectly level and centered where they want it.
Get their approval on exactly where it's going to go. I never hang pictures using my best guess. I make them approve the location before I get started.
Make sure it's solid. If you don't have the correct mounting hardware to hang the art so that an earthquake wouldn't knock it off, then don't hang it. Go to the store and get what you need to do it right. The horse picture above is a $46,000 photograph (yes, you read that right). It would be really shitty if that fell!
Income and Expenses
Income (by lead generation source):
Existing Customers:  $2,532.92
Online Marketing:  $1,215.00
Truck:  $75
Expenses:
Direct Job Costs:  $317.82
Mileage:  $286.45
Phone:  $69.82
Insurance:  $94
Bank Fees:  $13.78
Website Domain:  $14.99
Total Income:       $3,822.92
Total Expenses:   $861.89
Net Income:           $2,961.03  (last month:  $2,997.10)
Billable Hours:  50.5
Income From Labor:  $3,473.32
Average Hourly Rate:  $68.78
I've got to admit that I had a bad month. Typically, I like to shoot for at least $3,500 net income and I've been short of that goal for the last 2 months.  Last month I had a good excuse – a 9 day vacation to Hawaii. This time I don't have a very good excuse.
So, why such a low income?
Well, there are a couple of reasons (other than only working 3 days a week) but the #1 reason is for my lack of effort, pure and simple. Not only did I put absolutely zero effort into marketing this month, last month, and the previous 10 months, but I failed at one of the basic requirements for this business.
I didn't follow up on several leads. It's pretty simple, if you don't want the business bad enough, you're probably not going to get it and this month was a great example of that.
Even though I had plenty of leads from my website, I simply didn't get back to many of these potential customers.
I'm not proud of this, but it definitely explains why my income was lower. Honestly, I just didn't feel like working. I've been putting all of my creative efforts into crafting excellent content for this website and I just had nothing left to give at the time.
Trying To Find A Balance
Lately, I've been experiencing a serious lack of time and I've been faced with some tough decisions. Basically, I'm trying to find a way to be a handyman and keep creating awesome content for this blog.
You see, when I'm not working as a handyman, I'm working on the very website you are reading right now. I'm writing these articles, creating videos for my upcoming series (coming soon), managing my online trainings, attending marketing conferences, and reading up on marketing books.
I actually spend more time on this blog than I do on my handyman business.
Please don't take this wrong because my intention isn't to complain. I choose to do this.
In fact, I love this shit. I love helping others start or grow their handyman businesses. I love sharing my story. I love getting e-mails and comments from my readers saying how much I've helped and inspired them. I love having a purpose.
I do this for you, but I also do it for me. Eventually, I'd like to make a significant income from this blog. It is a business after all.
Either way, it's clear that my life is currently out of balance and I spend too much time working. Not only that, but I spend too much time doing repetitive tasks that I frankly shouldn't be doing.
That brings the question: What am I going to do about it?
I've considered selling my handyman business and focusing on the blog. Then I've considered laying off the blog and focusing on my handyman business.
But, I enjoy both of them too much. Instead of quitting on either one of them, I've decided to hire some help and create systems so I can be more effective and get more done in less time.
I'm not sure exactly how I'm going to do that yet, but I believe it's absolutely critical for my sanity and happiness. Additionally, I've got some really great ideas for Handyman Startup that I will never get to unless I find some help. Ideas that I know will help you with your handyman business.
Monthly Goals
Last month I had two goals. Goal #1 was to decide on a service to promote and Goal #2 was to finish up the videos I've been promising for the last couple of months. Unfortunately, I didn't complete either one. No big deal though, I'll just have to keep working on them.
Goals For January
Goal #1:  Complete The Video Training On Online Marketing
I've made significant process on the videos, but have struggled to finish them.  This month I'll definitely get them out there! I'm so determined to do this that I'm going to make this my only goal.
Have any tips on being more effective and getting more done?  If so, please leave them in the comments below!