Aug 27 , 2014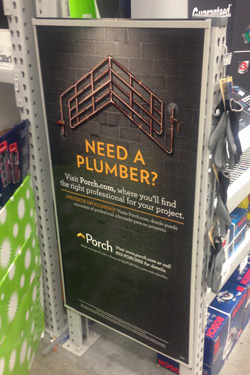 As a handyman and writer of this blog, I'm always on the lookout for new ways of getting customers. More specifically, I'm always looking for low maintenance ways of getting customers.
Personally, I don't like to spend a lot of time marketing my handyman business.  Instead, I like to put in focused effort on the 20% of marketing methods that generate 80% of my new leads.  This allows me to make a full time living as a handyman while only working 3 days a week.
A few weeks ago while shopping for supplies at a local Lowe's, I saw an ad at the end of the isle (as shown in the image to the right) and was instantly intrigued.  Lowe's now had it's own directory for recommending professionals.
Just as Home Depot has done with RedBeacon, Lowe's was now working on a way to connect their customers with qualified home service pros.
I don't know about where you live, but a lot of people in my city shop a Lowe's.  But more importantly, a lot of non-contractor's shop at Lowe's.
This could be a game changer for many handymen.
UPDATE OCTOBER 2018: Porch has evolved over time and some of it's features have changed since I wrote this post back in 2014. While I still believe it has potential, I can't necessarily recommend it like I used to. As always, make a decision to try it based on your unique situation and if it doesn't get results, stop using it.
What is Porch?
Essentially, Porch is a lead generation company.  Just like Angie's List, Thumbtack, Home Advisor, Yelp, and hundreds of others, Porch was created to connect homeowners with professionals.
On the site, customers can type in the service they are looking for to see a list of local professionals.  They can then browse through the list, take a look at previous jobs completed, and evaluate other customer reviews.  Pretty common structure when it comes to an online directory.
Creating a listing for your business is free. And, just like other directories, you have the ability to pay for a premium listing.
Porch may seem like just another directory, but it's not.  Here's why…
Why I Like Porch
#1 – Get recommended in store.
Porch is doing something very unique with it's directory.  Not only can homeowners access the site from home, but Lowe's employee's will use the site to recommend service providers to shoppers in store.  From what I was told by Porch, certain Lowe's employees will have iPads on hand that they can use to guide customers through finding a service provider.
That means you have the ability to be recommended by a Lowe's employee directly!  I don't know if it gets much better than that for building instant trust.
#2 – They're Innovative
Not only is Porch partnering with Lowe's, but they're also partnering with Realtor.com – a website dedicated to helping people find a home.
How this works is really interesting.  Realtor.com will be using the jobs tracked on porch to create a history of each property.  This history will include maintenance, upgrades, and other information.
For example, if a homeowner used porch to find a contractor to do a kitchen remodel and then tracked the job on Porch.com, that history would be attached to the home profile on Realtor.com.  When a somebody else purchases that home in the future, they can see a complete list of maintenance and home improvements, including what contractor or handyman did the work.  
So, even if your customer moves, you still have the opportunity to retain the business for that specific house.  Or, other homeowners in that neighborhood could see what contractor's their neighbor used.  Smart.
#3 – Transparency
Unlike HomeAdvisor (who has created quite a bit of controversy in the industry), they aren't sending you the leads and forcing you to race and compete for the business.  Porch is simply recommending you and allowing the customers to call you if they choose.
So instead of chasing down fake leads and tire-kickers, you will only receive leads that are serious enough to pick up the phone and call you.
#4 – Accessible to Anyone
Unlike Angie's List (not a fan), Porch is free for anybody to access.  This gives it a much wider user base instead of only allowing you to reach customers who have paid to see "the list."
#5 – It's Customizable
With with a premium listing on Porch.com, you have the ability to focus on very specific areas and services.  Only work in one zip code?  That's where you'll get your leads from.  Only want to advertise certain services?  They've got you covered there, too.
I like this because it allows you to build your customer base in a very small and specific area, allowing you to stay busy without having spend all day driving to and from jobs.
Low Hanging Fruit For Handymen
It all sounds good in theory, but does it deliver results?
When I first saw that Porch had partnered with Lowe's, I immediately  knew this would be a big deal in the lead generation industry.  So, I created a (free) profile.  I then looked at my current competition on the site and saw that there was almost no competition.  Sure, there were a lot of professionals listed in their directory, but only a few had complete profiles.
I was able to stand out in a major way by simply uploading some pictures.  My profile stood out like a full page color ad in the white pages of the phone book.
Within a day or two of creating my profile, I was already receiving leads!  In a single day I got 4 leads just from Porch.com  The best part was I had instant credibility because I was recommended by a Lowe's employee!  I was amazed.
Will this last?  Will I continue to get high quality leads with almost no effort for free?  Probably not.  Eventually, more professionals will figure it out and create a decent profile.  And soon, there will be handymen paying for the opportunity to be recommended by  Lowe's employee directly.
For me, I've decided not to pay to be a go-to handyman in my area because my website generates more than enough leads by itself.  But, if I was looking to grow, you bet your ass I'd be paying for at least one zip code.
What are you waiting for?  Click Here and setup your profile today!  (I'm not affiliated with Porch.com BTW.  Just thought it could help you.)
If you found this article helpful, don't you think others will, too?  Do us both a favor and share it!