Mar 22 , 2014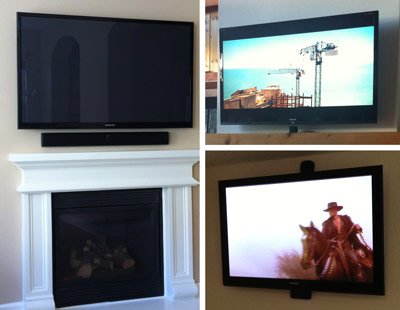 Are you looking for handyman services you can offer that are profitable, enjoyable, and that attract quality clients?  Well, you're in luck.
In this article, I'm going to share a profitable service you can offer on the side or as part of your handyman business – TV wall mount installation.  I also share a video of a recent TV wall mount that I did as a little bonus.

When I first started my handyman business, I had no idea I could make good money mounting TVs.  It really shows how little I knew about this business. It's crazy to think how ignorant I was when I first got started.
Anyway, I stumbled upon the opportunity back in the day when I was using Home Advisor to grow my business.
It was one of the services that I could sign up to receive leads for so I tried it out. I didn't really expect to get many leads to mount TVs, but I was wrong. As it turned out, there's a decent amount of demand for mounting TVs and if you can capture some of these inbound leads, it's easy money.
Once I realized the potential I quickly started marketing the service on my website using the strategies that I teach in the Handyman Marketing Machine. It worked, and in 2013 I made about $4,000 just mounting TVs for new customers.  This does not include the money I made when the customers hired me for other projects, which happened often.
Here are some of the benefits of offering TV wall mount installs.
Profitability – Even a beginner handyman can easily make $100/hr mounting TVs.  Customers put a high value on it because TV's are expensive and they think it's hard.  It's actually really easy and doesn't take much time which means you make a solid profit.
Attracts good customers – The kind of customer that can afford to mount their TV is likely a going to be a customer that can afford to pay you well for quality service.
Hardly any supplies needed – Aside from the mount ,which is usually supplied by the customer, you don't usually need any supplies unless you're doing in wall wiring.
No specialized tools required
How much should you charge?
Pricing for a TV wall mount is going to vary by situation.  Some customers will provide the mount, some won't.  Some customers want in-wall wiring and some customers just want it hung on the wall.
I typically do flat rate pricing for TV wall mounts and my pricing starts at $100 for a basic installation.  If they need a mount or any additional components, that's extra.  I personally wouldn't recommend going any lower than a hundred bucks, though.
For the job shown in the video below I ended up charging about $325 to mount two TVs to metal studs and hide the wires in wire molding.
What materials do you need?
TV Wall Mount – Obviously, if the customer doesn't provide the wall mount, you'll need to pick one up.  If you buy one at Home Depot, expect to pay about $100 for a tilting wall mount.  However, you can get them much cheaper online (like $30).
Wire Molding – I like to keep a pack of this peel and stick wire molding on me for these jobs in case the customer wants the wires cleaned up but doesn't want to pay for in wall wiring.
Electrical Kit – If your customers want in-wall wiring (and assuming you can offer this service legally), you'll need some electrical supplies.  Another option would be to use a kit that doesn't require you to tap into the existing electrical system, but I'm unsure if you need an license to install these. One of those legal grey areas!
How to market these services?
The best way to advertise for TV wall mounts is online marketing. Successful online marketing allows you to capture the leads while they're hot.  Ideally, you're going to want to be found when somebody googles the term "Tv wall mount install" or a similar keyword.
If you want to get started offering this service right away, post an ad on craigslist.  If you really want to capture a lot of these leads you're going to need to implement some more advanced online marketing.
TV Wall Mount Job Example
Here's a video of a recent job I did for one of my commercial clients.  I decided to turn it into a YouTube how-to video as a little marketing test.  Enjoy!
Did you find this article helpful or insightful?  If so, share it with your friends. They'll probably like it, too.