Mar 03 , 2016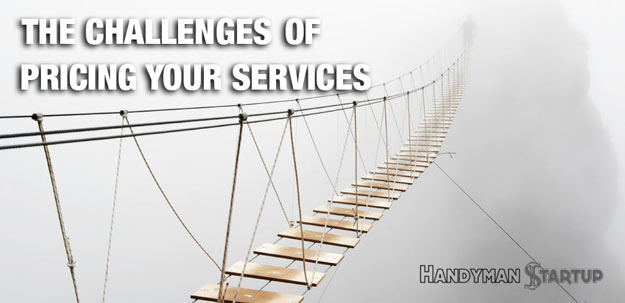 I was surprised when this customer questioned my pricing.
The I had been working for them for well over two years, and suddenly they were questioning my pricing?
Nothing had changed with me. I still charged the same rates.
Yet, there I sat, staring at my computer, reading an e-mail from a shocked customer who was upset about their bill.
"Was there a mistake with the invoice?" They asked. "What are these extra trip charges for?" and "Can you please call us to discuss this?"
Luckily, I've been doing this for a while, so it wasn't a huge deal. I knew it was just a simple misunderstanding and as long as I didn't get emotional about it, it would be O.K.
So, that's what I did. I called them, explained myself, and worked it out. No big deal.
But, the story doesn't end there.
That customer still needed more work done. This time, it was a custom job, and they wanted an estimate before I got started.
Now, this was challenging for two reasons. First, I'd never done what they were asking me to do before which made it difficult to estimate.
The second challenge was the psychological pressure they put on me by questioning my pricing on the last job.
I didn't want to bid too high and lose the customer forever. But, I also didn't want to underbid because I knew how much I was worth and I have no interest in working for free.
So, I put together my estimate, stayed strong with my pricing, and sent it over via e-mail…
…and…crickets.
They didn't respond.
After a couple of weeks went by I figured I had lost the customer. And it got me thinking…maybe I was too expensive? Do I need to lower my rates? Did they find somebody better?
Even though I had been doing this for years and had more business than I could handle, it still caused me to doubt myself and my business.
Then, two months later, guess what happened?
Out of nowhere I got an e-mail from that same customer asking me when I could start! All of that worrying was for absolutely nothing.
The same can be said for most of your pricing concerns as well. That's why in this article I want to discuss…
The Challenges of Pricing Your Services
Pricing your services is challenging for two main reasons.
The first challenge is knowing how much to charge.
The second challenge is getting over the psychological barriers that often force people to underbid. Examples would include worrying about a customer not liking you, getting a bad reputation for being too expensive, or simply losing the job to a lower bid.
The ladder is far more difficult to overcome.
At least, I know it's the most difficult for me and what I struggled with in the story above. I had that customer on my mind for two months, thinking that maybe I was too expensive, only to end up getting the job anyway. Talk about a waste of mental energy.
The reality is that there could be a million reasons why they took so long to get back. But, my mind went straight to the worst case scenario.
Luckily, I had already been doing this for a few years, otherwise I would have buckled under the pressure and lowered my rates, and my profits would have needlessly suffered in the process.
How To Overcome Pricing Challenges
Most people would give you advice like "have confidence" or "stick to your guns."
This is great. But unfortunately, you can't just go to the store and pick up some confidence off the shelf. Confidence is a result of knowledge and preparation.
Here's what I recommend instead.
The first step is to have a profitable pricing strategy that allows you to generate a healthy profit and income. Understanding how much you MUST charge to make a profit is critical. Without this, nothing else matters.
Then, once you know how much you need to charge, the secret to getting over the psychological challenges is to…
….be willing to walk away.
If you desperately NEED every customer that comes your way, you'll be powerless with your pricing. All the positive self-talk and rationalization won't do much for you. The need for business in the short term will override rationality and cause you to undercharge.
When customers are scarce, pricing is scary.
On the other hand, if you have plenty of customers coming in, there's a switch that flips in your mind. It's like the fear gets turned off, or at least turned down, and you suddenly feel more confident. Losing a jobs here and there isn't a big deal because you already have plenty of other customers and jobs on your schedule.
An abundance of customers also allows you to test higher rates, become more profitable, and it has the additional benefit of allowing you to pick and choose which jobs you take on.
So how do you overcome the pricing challenges that are robbing you of thousands of dollars every month?
First, you need to understand your business from a financial perspective so you know how much to charge to generate a profit.
Then, you need to understand the proven methods for pricing your services for maximum profits.
(My pricing course – $100K Handyman Pricing – will solve these first two problems for you.)
And last (and most certainly NOT least), you must invest time into marketing your services so you can attract enough customers to actually feel confident. Word of mouth alone is rarely enough to generate enough leads for confidence to emerge, and paying for leads is a poor strategy as well.
So, if you are struggling with pricing – maybe it's your marketing that needs some attention.
There's a Better Way To Fill Your Schedule
Don't pay another dime for leads. Learn how to attract high paying customers to your home service business consistently and reliably in this free report.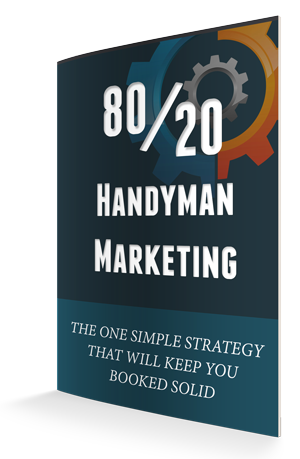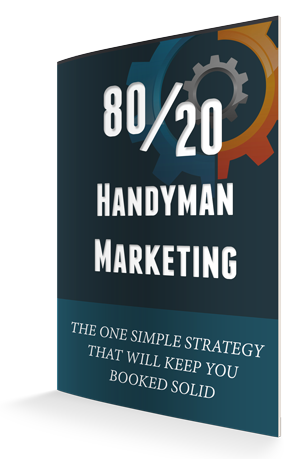 "80/20 Handyman Marketing"
You'll learn the one simple marketing strategy that will keep your schedule booked solid all year long without paying a dime for leads or ads.