Feb 25 , 2014
Last weekend, there was a severe windstorm in my city.  I'm talking about wind that shakes the whole house, knocks over trees, and throws patio furniture.
I remember sitting in my living room with my fiancee and we could feel the whole house shaking.
As you can imagine, the wind damaged a lot of properties in my city.  I mean, this wasn't like a tornado or anything like that. But wind gusts were estimated to push 80mph.  It was intense.  My patio furniture was completely demolished and it even knocked over and destroyed my propane grill.
The aftermath of the windstorm left fences knocked over, roof shingles scattered throughout the streets, and basically just a whole lot of home repairs.
The morning after the storm, my phone was ringing off the hook.  People needed their homes fixed.  But, where did they look for repairmen and women?
They didn't open their phone book.  They didn't look in the weekend newspaper (ok, maybe some of them did).  They went where they knew they could find somebody to help them – the internet.
The handymen, plumbers, electricians, landscapers, and contractors that positioned themselves with a good online presence are now booked out several weeks with profitable jobs.
And here's the deal – Those aren't the only high quality leads you can generate online.  Here are 4 more examples of why good online marketing generates the best leads.
Disruptive Repair Leads
Disruptive repair leads are what I mentioned above.  I define them as the unexpected damage to a home or business that disrupts a clients living situation.  This includes jobs like a door being kicked in, a fence blowing over, a toilet that won't stop running and keeps somebody awake, an appliance that suddenly stops working, etc.
These are projects that aren't necessarily emergencies, but are just annoying and inconvenient for people.  Disruptive repairs will force people that don't typically hire a handyman to pick up the phone and give you a call.
I can tell you from experience these are some of the best leads, too.
They're great leads because the customers are experiencing a real pain-point.  There's a problem and the customer wants a solution so they can get back to normal life.
These customers aren't just casually shopping around for somebody to paint a room or something.  Their roof is leaking, their fence is blown over and their dog can escape, or some other disruption that is negatively effecting their lives.  They're ready to go!
Assuming your answer your phone, you'll get a high percentage of these jobs.
Emergency Leads
I've generated several leads from my online marketing for emergency services.  These are similar to disruptive repair leads, but much more urgent.  
These jobs can range from a leaking roof during a rain storm, a broken furnace in the middle of winter, or a major plumbing leak.  They can even be as simple as getting a jammed door open for a business.
If you're willing to offer emergency services, these can be great leads because they are extremely profitable.  You can typically double or even triple what you charge in these scenarios because it's an emergency.  
Obviously, a property owner in need of an emergency service doesn't have time to ask for recommendations.  He or she is going to go with the first person that picks up the phone ready to work.
New To The City?
My definition of a great customer is someone who is loyal, easy and enjoyable to work for, and is more concerned with quality than cost.  Since they are loyal by definition, they typically already have handymen they are loyal to.  That makes it a little difficult to find them!
So, as a new handyman service, you need to find other ways to get these great customers.
One of my most successful methods is through being found online by those who just moved to my city from another area.
Since new residents don't typically know a lot of people to seek recommendations from, they tend to look online for service providers.
If you can land one, these clients are awesome.
They're generally really friendly and easy to build a relationship with.  Just like the new kid in school, they want to be accepted and seek to belong in the new city.  They're probably feeling a little out of place and as long as you are friendly and provide a good service, they'll be loyal for life.
Vacation Home Owners
Based on what I've heard from many of my readers, vacation homes owners are awesome customers.
They obviously have enough money to pay you if they have more than one home.  They can't do most of the maintenance themselves because they live elsewhere.  And, as long as you do a good job, they'll continue to hire you.
If you live in a small ski town or a vacation hot spot (unfortunately, I don't), these customers are plentiful.
Just like other types of customers, many of these will search online to find a handyman or other service professional.  If you can swoop them up before a larger property management company gets to them you're in good shape.
The Take Away
In addition to being low cost (if done yourself) and extremely effective, online marketing also provides the best leads for your home repair business.
In my mind, there is really no substitute and I wouldn't be as successful as a handyman without it.  Currently, the internet is how I generate all of my new leads and keep my schedule booked with quality jobs.  It's what allows me to enjoy my business and feel confident that I'll have enough business next week, next month, and next year.
If you're not successfully generating leads online, I recommend spending more time on your online presence.  It's well worth the effort!
How To Market a Handyman Business
If you'd like to learn how to attract more customers, here's where to start. Click the button below, enter your e-mail and get this free PDF report I've put together for you: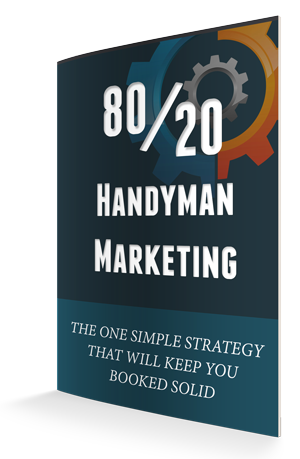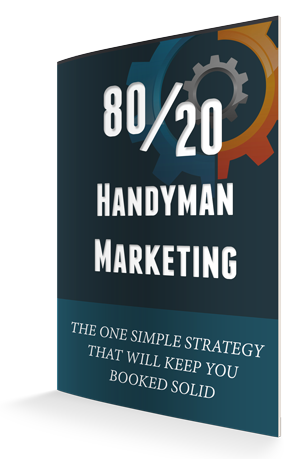 "80/20 Handyman Marketing"
You'll learn the one simple strategy you should focus on if you want to keep your schedule booked solid.