Feb 03 , 2016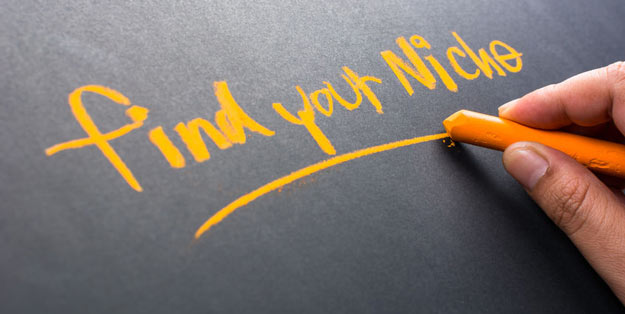 Are you offering too many services in your handyman business?
Or, are you thinking about getting started but aren't sure if you have enough skills yet?
What if I told you that by only offering a few services you can actually be more profitable and significantly simplify your business?
The most common handyman business model is what I call the "big or small, we do it all" model, which is how I originally started my business.  This is a great model if you love to solve new problems and do a variety of projects.
The problem is that it's a difficult to scale this model, and it's often not as profitable as it could be due to it's complexity.
The alternative is to choose a niche, or specialize in one or more specific services and focus on those.  From a marketing and business standpoint, this actually makes more sense.  Not only can this simplify your business, specializing can be more profitable.
Here are 7 reasons why you might want to specialize.
#1 – Expert Positioning
When you specialize, you automatically position yourself as an expert.
When customers are looking for a specific repair, installation, or improvement to their home, they crave an expert.  Wealthy clients especially.  They aren't looking for some weekend handyman who can "probably figure it out."  They want somebody that's like "THIS IS WHAT I DO!"
For example, one of the services I specialize in is TV wall mount installation.  It's one of the main services I promote to gain new clients.  Simply promoting this service has positioned me as an expert.
The funny thing is that as soon as I'm done mounting a TV, customers will often ask "do you offer other services or do you just mount TVs?"  I love when I hear this because I know that my marketing worked.  Despite the fact that I am a handyman and I do all kinds of services, they see me as a TV wall mounting expert.  That's why I got the business.
I'm sure that most handymen wall mount TVs, but because I promote the service and specialize in it, the customer's often choose me.
#2 – Higher Income Potential
By specializing you can demand a higher hourly rate while still remaining competitive with your pricing.  This is true for a couple of reasons.
One, it positions you as an expert as mentioned above and people will pay more for experts.
Two, you get more efficient at the service so you can get it done in less time.
Three, you can charge flat rate pricing or even create pricing packages if you bundle services.  You can do this without specializing, but it gets complicated.  Flat rate pricing is ideal, especially if you are efficient and free quotes aren't eating up your extra profit.
#3 – Higher Conversions
If you're marketing online (which who isn't) whether it's with craigslist, your website, or the online directories, you will have higher conversions if you specialize.  (By higher conversions, I mean that a higher percentage of people that see your ad will call you.)
By specializing you become highly relevant to customers looking for that service.  Sure, you lose relevance on other services that you may provide, but that's a tradeoff you must make to get the phone ringing.  Once you get in the door, you can always promote your other services (which I often do).
Example:  Let's say a customer is looking on Craigslist for a fence repair.  They come across a few posts with the following titles:
"Local Handyman"
"$10/hr Handyman"
"Professional Handyman"
"Fence Repair Service"
Each listing offers fence repair in the body of the ad, but which one would you click on first?  It's obvious, you'd click on the one that was most relevant to the service you were looking for: fence repair.
This scenario is true in many instances across the web.
#4 – Easier to Hire Help
Specializing makes it much easier to hire help and grow your business.
As a professional handyman, you are often challenged with a variety of problems that require creative solutions. However, you know your limitations and it's easy for you to determine what you can or can't take on.
Hiring somebody who's equally skilled that you can trust is challenging.  It's not impossible, but it's challenging.
Typically, you will need to pay more for this level of skill.  It takes years of experience or a certain type of person to become an all around handyman.
But, if you only offer one or two basic services, it's much easier to train somebody with less experience.  For example, if you specialize in pressure washing, you could easily train an un-skilled laborer relatively quickly freeing you up for more complex jobs or to grow your business.
#5 – Simplified Pricing
Quoting can be a serious time suck as a handyman.  As a new handyman, you'll find yourself running all over town quoting jobs because you're not sure you can handle them or aren't sure what each jobs entails.
Additionally, pricing as a handyman is probably the most challenging thing to master.
Specializing almost eliminates this complexity and the need to quote in person.  If you specialize you will likely develop fixed pricing and easily be able to quote over the phone without visiting the customer's house.
Simplified pricing also makes it easier to hire somebody to answer the phone for you, once again freeing you up to do more impactful things in your business like marketing or creating systems.

FREE REPORT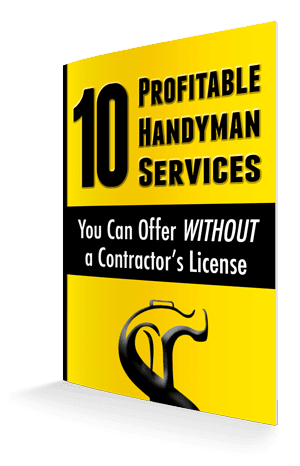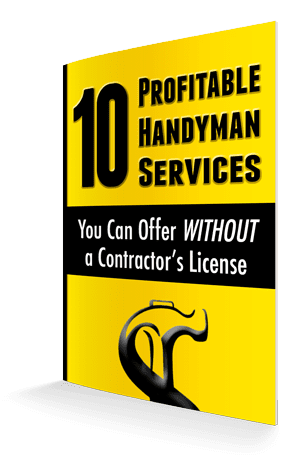 Learn 10 Profitable Handyman Services You Can offer WITHOUT a Contractors License
Stop waiting and start making money. Download this short PDF where I reveal ten of my most profitable, in-demand services that you can start offering today.