Jul 29 , 2015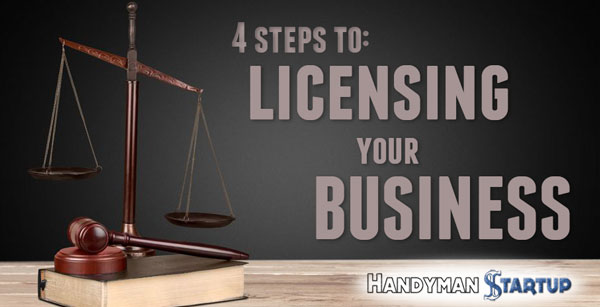 Starting a handyman business is an exciting time! But, just like anything else, there are some not so fun tasks required to establish a legitimate, legal business. Obtaining the necessarily licenses is one of them.
This is often frustrating, confusing, and boring. It's even boring to write about!
But…it's necessary.
I'm going to attempt to make this process easy for you. Maybe even fun (if that's possible). At the very least, I'll save you some time, and maybe even some cash while helping you avoid legal issues down the road.
The process may take a couple of days, but you'll be glad you did it once your finished.
Disclaimer – I'm not an attorney and am NOT qualified to give legal advice. This is for informational purposes only and should not be considered all-inclusive. Consult with a qualified attorney for all legal advice and decisions about your business. And most of all, please don't sue me for trying to help you, emkay?
Step #1 – Create a Business Entity (State Business License)
Any business, regardless of what it sells, needs to create an entity with the state in which it operates. That's a fancy way of saying you need a business license.
What To Do:
First you need to decide on what type of entity you will create – usually an LLC, a Sole Proprietorship, or a S Corporation for most small service businesses. This will take some research and deliberation.
For my handyman business, I chose an LLC (here's why). However, that doesn't necessarily mean you should. In this podcast, Randal DeHart suggests forming an S Corp and makes a great argument for doing so.
Remember, one size never fits all. Consider your own unique situation when making your decision.
Many small business owners choose to operate as Sole Proprietors, but this isn't recommended because it provides almost no protection for you or your assets in the event of a legal issue. You are liable for anything that goes wrong with your business, while an LLC or S Corp protects your personal assets to a certain degree. (Basically, if you accidentally burn down your customers home, you might lose your business, but you won't necessarily have to lose your home, car, and retirement money with the proper business structure.)
Once you've chosen the type of entity you'd like to create, you have three options for registering with your state.
You can visit the Secretary of State's website for your state and register it yourself (cheapest option, but may be more difficult).
You can hire an Attorney to do it for you (most expensive).
You can got to LegalZoom.com and have them guide you through the process (affordable and easy).
Step #2 – Get an EIN (Employer Identification Number)
If you form an LLC or a corporation of any kind, you'll also want to register for an EIN. This is done through the IRS and is used when filing your taxes. An EIN is essentially a social security number for your business.
This step is super easy and only takes a few minutes and can be done online at irs.gov.
Wondering if you need an EIN? Click here to find out and apply for one if you do.
Step #3 – Get the Appropriate City Licenses
In addition to filing for a state business license (step #1), you'll need to get a city business license as well. As you might have guessed, this is different for every city.
I actually didn't know I was supposed to do this until after I had been in business for over 6 months! I got lucky and didn't get fined, but it would have been nice to know back then. Hopefully this article helps you avoid that mistake.
What To Do:
Go to your local chamber of commerce for the city you'll be operating in. I recommend going in person so you can talk to somebody and get some help. I was totally clueless when I went so I just asked them what to do. They helped me complete the forms on the spot and within an hour I had a city business license.
You may even be able to do this online depending on your city. Also, if you plan on offering services in multiple cities, you will likely need multiple licenses.
Step #4 – Get a Contractor's or Handyman License
If necessary in your state, make sure to get the appropriate licenses for the services that you'd like to offer. In many cases, this will actually be the first step.
For details on how to get a handyman license or to learn if you even need one, read this article: Handyman Licenses and Laws: How to Avoid Getting Stung. It will give you some basic advice and point you in the right direction.
And That's It!
Filing paperwork and trying to navigate all of the laws and licenses around starting your business can be a pain in the ass. But, don't let it hold you back from getting started.
Usually, it will only take a couple of days and cost a few hundred bucks. But once it's done, it takes very little time and effort to maintain, especially if you've hired a good bookkeeper or accountant.