Jun 04 , 2015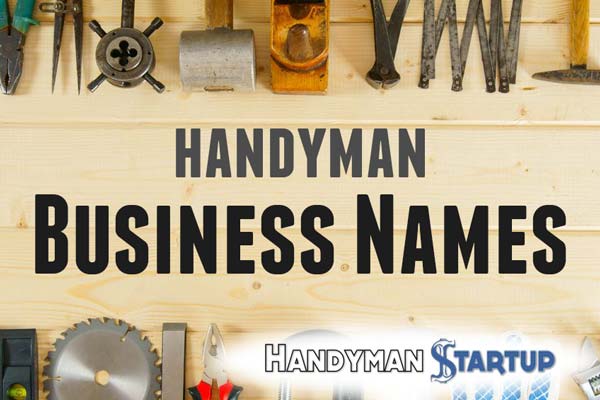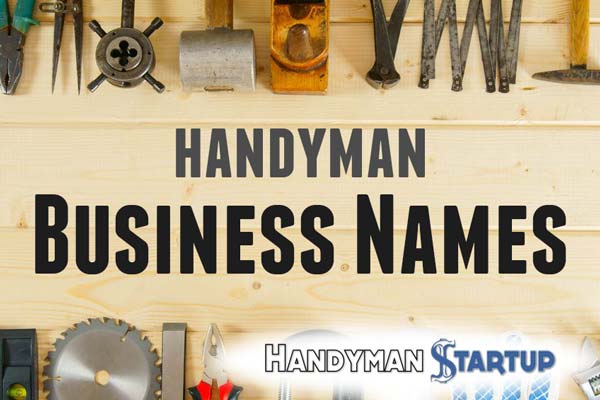 Naming your handyman or other service business can be challenging and time consuming.
There are so many factors that you need to consider along with the fact that thousands of handyman names are already taken.
However, I assure you that the time and effort are well worth it. This is not something you want to rush as it's very difficult to change once you've established a customer base and an online presence.
Here's what to expect in this article:
A list of handyman business names to give you some ideas.
Important things to consider when choosing the right handyman business name.
An easy method for coming up with a great, original business name.
Remember, a handyman business name by itself won't make or break your business, but it can have a significant impact on your success attracting the right customers. A bad business name will have to be compensated for with extra efforts in marketing and explaining to customers.
A great handyman business name will naturally draw your ideal clients toward your business once they see it.
So you might as well put some time and effort up front to come up with a great name that you're proud to put on your work vehicle, business cards, and website.
First, let's start with some examples…
Catchy Handyman Business Name Examples
Handyman From Mars
Odd Job Bob
Mr Handy Hands
Punchlist Handyman
Extra Hand Handyman
Fix-It Professor
Mr Fix All
Honey-Do Handyman
HandyPro Home Services
The House Dr.
Mr Handy Hands
Handy Dan
Franchise Handyman Business Names
Mr Handyman
Handyman Connection
Handyman Matters
The Honey-Do Service
House Doctors Handyman Services
Andy OnCall
Maintenance Made Simple
Odd Job Bob
Home Fixology
Handy Pro Handyman Service
Handyman Network
Yellow Van Handyman
Home Task Handyman Services
More Examples
Kalamazoo Home Repair
Credible Construction
UpKeep Home Maintenance
All Pro Fix It
Handyman Service Professional
Perfectionist Handyman
DNA Handyman
Copper Creek Handyman
Overhaul Handyman
1st Service Handyman
Harmony Improvements
All Service Home Repair
High End Handyman Services
Welcome Home Handyman
Smart Home Maintenance
The Handy Bee
All American Handyman
Power Pro Handyman
To-Do List Handyman
What a Useful Guy
Gold Star Handyman
As you can see, handyman business names range from very creative and catchy to very direct and to the point. The most common choice owners make is to simply go with their personal name and add handyman services to the end (for example: Mike's Handyman Services). Depending on your goals, this could be perfectly fine.
However, if you are planning to sell your handyman business in the future or turn it into a franchise, you'll want to pick a name that will be more appealing to a buyer or franchisee. Always consider your exit strategy.
You never know what the future will hold, so it's usually worth the effort to come up with something other than your given name.

FREE REPORT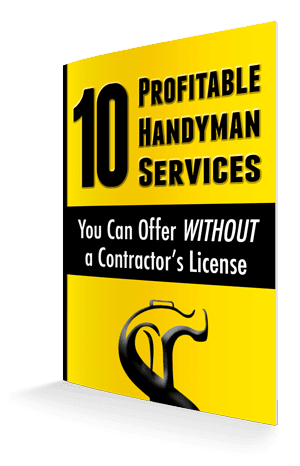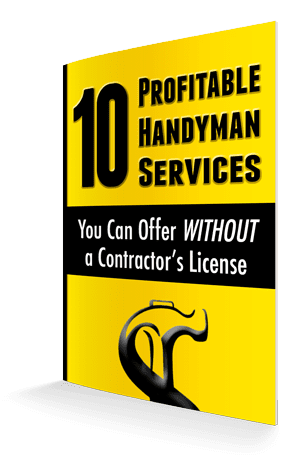 Learn 10 Profitable Handyman Services You Can offer WITHOUT a Contractors License
Stop waiting and start making money. Download this short PDF where I reveal ten of my most profitable, in-demand services that you can start offering today.
Business Name Brainstorming Tips
If you're not already bursting with ideas after reading the above list, I've got some brainstorming strategies for you.
I've found that following a strategic process enhances creativity much more than just trying to think. In fact, even if you don't consider yourself creative, you might surprise yourself by simply asking the right questions.
As you go through this process, write down your answers. And here's a bonus tip – don't filter yourself, just write as fast as you can think and write down as many answers as you can. Over-analysis is the enemy of creativity, and right now you're trying to be creative.
What services will you be offering? Jim Copenhaver was planning on handling customer's to-do lists and came up with the name PunchList Handyman (click here to learn more about his business). Another great name I've seen is "The Door Man." This business obviously focuses on door repairs and installs.
What specific neighborhoods or suburbs will you be servicing? You may consider naming your business after one of those areas to be hyper-relevant to those customers. That's exactly what Michael Rodriguez and it worked for him.
List any words that would be used to describe you or your business.  Professional, experienced, quality, fast, speedy, quick, advanced, and meticulous are some examples. Obviously, you'll want to focus on adjectives that put you in a positive light with customers.
What will you provide for your customers besides your services? This could include emotions, a state of mind, or more time. Examples might include: comfort, less stress, peace of mind, more time, happiness, etc.
What geological features do you have around your city or state? List all of the mountains, rivers, parks, valleys, or anything else you can think of. You may come across something that sounds good and is meaningful to you and your customers.
What previous careers did you have or why did you decide to start a handyman business? Before becoming a professional handyman, I used to be an engineer. Thinking back, I probably could have worked this into my business name somehow.
Now that you have a nice long list of keywords, run them through a thesaurus to discover more.  You can find a thesaurus on Google.  Write down any good synonyms that you come up with from the thesaurus.
Once you have a large list of words, start combining them and see if you can find something clever.  Don't be afraid to modify a word slightly or combine two words into a single word. If you get stuck, re-read the list of names above for more ideas.
From this exercise, try to come up with at least 20 decent names that you may consider using. Then choose 3-5 of your top names and run them by friends and family to see what they think. One of the names that you didn't really like may inspire a friend to come up with a good name that you would have never thought of. Ask for feedback as well, but be careful taking feedback from somebody that isn't in your target market.
Just a quick warning, though. Don't spend too much time trying to come up with the perfect name. At some point it will be better to just move on so you can get other parts of your business going.
It took me about a month to decide on a name for my handyman business. I had plenty of really good ideas, but most of them ended up being taken. Don't get discouraged by this because there are plenty of good names still out there. You just have to think outside the box.
Business Names and Marketing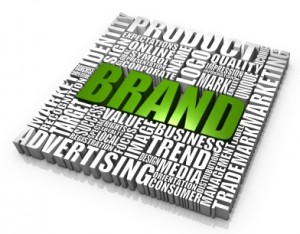 After you've done some brainstorming and have a few ideas, here are some things to consider to help you whittle down the options and ensure you choose something that will help, instead of hurt your business.
Pick a name that is easy to say and spell.  If people can't pronounce your name, they are much less likely to recommend your services to others. And being easy to spell is now more important than ever.  The Internet is the place to do business these days.  If your customers can't type your name into Google correctly, then they may never find you.
Be recognizable. If you plan on growing a large handyman business with multiple employees, choose a name that is unique and catchy so when people hear it, they want to know more.  You want your business name to stick in their heads.  Odd Job Bob is a great example from above that does this well.
Clarity is your friend.  An ideal business name tells what the product or service is.  This can be especially important for a service type business.  This doesn't mean that you have to have the word handyman in your name, although it is a good idea if you can work it in.  You could have a name such as HandyPRO and it will give people a good idea of what you do while still being unique and memorable.
Are you specializing in a particular niche?  If so, try to work something in that says what you specialize in.  A good example of this is the franchise Shelf Genie.  It's pretty obvious what they do…they install shelves.
Choose an area specific name. Are you planning to target a very specific area?  Let's say you live in the suburb called Whispering Oaks in San Antonio.  "San Antonio Handyman" would be a great business name, but it's probably already taken.  Instead, you may try "Whispering Oaks Handyman."  However, depending on how much you want to grow your handyman business, this could be restricting in the long run.
Is the domain name available?  Online marketing is where the best customers come from, and your website is the hub of your online presence. So, ideally you'll be able to get the domain name that matches your business name with a .com. In fact, I highly encourage you to read this article on how to choose a domain name before making a final decision.  This is going to restrict your name options significantly.  When I was brainstorming names for my business, I would fall in love with a name only to find out that the URL wasn't available.  I eventually found one that I was happy with and the URL was available, but it took some time.
Will it resonate with your target market?  Are your ideal customers going to like your new name?  Choosing a name that you like is nice, but your focus should be on the customer. If you're planning to target dual income professional parents (a great market by the way), make sure you pick a family friendly name.  You don't want to scare them away with a name like "Hardcore Handyman" or something.
Also remember that you don't have to appeal to everybody, just make sure your name appeals to somebody. Read Targeting the Right Customers for tips on how to choose profitable customers that you want to work with.
Legal Considerations
As you are probably aware of, many handyman business names are already trademarked or at risk of being trademarked, so you'll want to make sure your choice is safe.
In a perfect world, you would just go to a website, type in your desired business name, and it would tell you whether or not you could use that name. Unfortunately, this website doesn't exist (that I know of) which makes this process a pain in the ass.
I'll try to make it as simple as possible for you.  Please note that I'm not an attorney and this is not legal advice.  This is only information I have gathered from my experience.
Do a quick search on Google or whatever search engine you prefer by typing your desired business name in the search box.  It's usually a good idea to go through the first 3 pages of results and see if anything turns up.
If it passes #1 then check to see if your name is trademarked by going to the USPTO's website here.  If the name is trademarked you are better off not using it. However there are some situations where you can.  If the company that trademarked that name has nothing to do with anything close to your industry and you would not compete with them, spoil their brand, or have any other negative effect on their brand, you can cautiously proceed forward.  However, there are always risks when doing this. Consult with an attorney to make sure.
If you really want to be sure, go to the county clerks office and have them search the fictitious name database for your state. I didn't bother with this personally, but I was clear on the risk I was taking.
You may choose to do an unregistered trademarks search by visiting thomasnet.com and other similar websites.  However, these are likely incomplete and will only give you a little more assurance your name isn't taken.
If you have cleared all the checks on this list, you should be good to go! Congratulations!
If you want to be extra safe, you should go talk to a patent and trademark attorney and have them do a more extensive search.  If you want to lock down your new name and protect it from others using it, go have it trademarked.  This is totally optional, though.  If you are going to be running a single man operation and never plan to expand, trademarking is probably unnecessary.