Sep 25 , 2017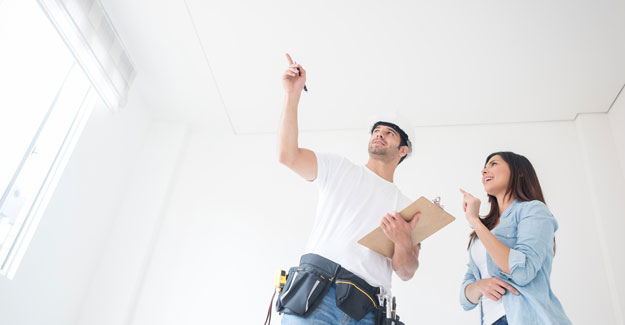 Time to talk about the I-word: insurance. If you're starting a business, the topic has probably come up along the way. And if you are anything like me, you might associate the term "insurance" with stacks of paper, confusing words, and a mild headache. But working as a licensed insurance agent at Next Insurance – a Silicon Valley tech company focused on improving handyman insurance for entrepreneurs like you – I can say that I am optimistic about the future. The world of insurance is changing rapidly and it's now easier than ever to get your business covered in a timely and affordable manner.
In this article, I'm going to lay out some common myths and mistakes when it comes to handyman insurance so you can feel confident knowing you're covered if you ever damage a customer's home.
Myth #1: All insurance is created equal
Reality: Some handymen are jacks-of-all-trades, taking on any project that comes their way, and some specialize in one thing, like installing pet doors or building sheds. The same policy isn't necessarily going to be appropriate for all of them. Every company's insurance policy is going to have different exclusions, and it's important to understand that some insurance policies may not cover all of the services that you plan to offer.
For example, exclusions for things like water damage are common and hidden in the fine print, even on a plumber's policy! Particularly high-risk services, like roofing or power washing are often not covered either.
Here's what to do to make sure you're covered:
First off, it is important to at least have general liability insurance because while only one out of every 1600 policyholders files a claim over the course of a year, the average claim costs over $150,000! That's enough put most handymen out of business. General liability insurance will protect you against incidents like:
Bodily injury (someone trips over your workstation and breaks their arm)
Property damage (you accidentally drop heavy equipment on a client's marble counter causing damage)
Medical Payments (someone injures themselves at your worksite and asks you to pay $200,000 in medical bills rather than suing you).
And before purchasing insurance, look at the outline of coverage in order to determine what is actually covered. The last thing you want to do is pay for insurance that doesn't even cover the main services you offer.
If you're interested in learning more about Next Insurance's affordable general liability policies (starting at monthly payments of only $40), you can see our insurance for handymen here.
Disclaimer: I have partnered with Next Insurance to bring you this article and am affiliated with them. If you sign up for Next Insurance through any of the links on this page, I will receive a small commission at no additional cost to you.
Myth #2: Insurance is only worth it if you have a claim
Reality: Not only can insurance protect you from financial ruin, it can also help you get more customers. With a solid insurance company at your back, you can…
Impress potential employers and clients by proactively providing certificates of insurance. If you're bidding on a job, having proof that you're insured can add a level of professionalism and show the customer that you're responsible when it comes to their home and your business.
Be confident that you can get important documents like Certificates of Insurance or various endorsement forms, and anything else you may need in a timely fashion, so you won't lose out on big opportunities waiting for papers to come through.

[Dan: Having insurance wont make or break a deal with most homeowners, but it is essential for certain customers such as apartment complexes and most property management companies. Also, some lead generation companies require you to be insured before you can even sign up.]
Myth #3: To be done right, insurance has to go through a live agent
Reality: Underwriting, or figuring out who is eligible for an insurance policy, has historically been an inconsistent, imprecise, and time consuming process. One underwriter might approve your application, while another might decline it based on their own interpretation of your application.
For example, we've heard horror stories of people having their insurance application rejected because they weren't able to provide their high school transcript, despite graduating 30 years ago!
Despite these shortcomings, for a long time people thought underwriting couldn't be done by a computer, since there were so many factors to consider. Now, companies like Next Insurance are turning this old assumption on its head by using sophisticated algorithms to automate underwriting. This not only makes it more consistent by eliminating human error, it also makes it faster and easier since it can all be done online from the comfort of your own home.
What to do before you buy
I get it – starting a business is already overwhelming enough, and you probably don't want to shell out even more time and money on an insurance policy you don't think you'll need. But, spending 15 minutes upfront can help you save big down the road. When you choose an insurance company that gets you the coverage you need at an affordable price, you can then go back to focusing on the task at hand: building your business.
Here are a few simple steps to make sure you get the right coverage for your unique situation.
Read Reviews
One of the best ways to find reputable insurance is to read customer reviews. If the company you're interested in does not include access to customer testimonials (the good and the bad) on their website, it might be a red flag. You can also look for reviews on a company's Facebook page, Twitter feed, the Better Business Bureau, and Yelp. Finally, there are third-party rating companies that give insurance carriers (the ones that actually put the policies together) on a scale from F to A+, and just like in school, A's are better than F's. Check to see what your potential carriers are rated by A.M. Best, Fitch, and others.
Ask Questions
Let's be honest, insurance policies for a long time were all about the fine print and confusing terminology. It's important to find an insurance company that cuts to the chase and can tell you what is and isn't covered by the different options you're weighing. They'll do this on their website, as well as over the phone. At Next Insurance, we try to be as transparent as possible on our website, but if you want to speak to someone, we have certified agents on call 15hrs a day.
Get Started
Ready to begin the quest to insure your business?
Click here to get a free online quote and be insured in just 10 minutes!