Oct 04 , 2013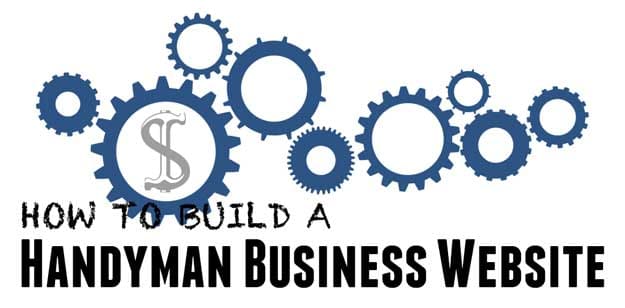 Building a good website for your handyman business is one of the most important things you can do.
In addition to building trust with potential customers, it can also attract new customers consistently, and do it on autopilot.
When setup correctly with proper SEO, a handyman website will work like a full time salesman for your business that never takes a break or a vacation, allowing you to keep your schedule filled with profitable jobs all year long.
If you've been considering building a website for your local service business, just make the decision and do it, starting today.
Again, if done correctly, it will payoff big time – literally being the difference between struggling to find customers and having a thriving business with a booked schedule.
And there is more good news…
Creating a website for your handyman business is easier than ever. In the matter of a few hours, you can have your website up and running, ready to bring in the new customers.
So in this how-to series, I'm going to walk you step by step through the process of building a handyman business website so you can take one more step toward a profitable handyman business.
This is the exact same process I used for my handyman business website, and it's the same process that I recommend in my premium marketing training Handyman Marketing Machine.
The Bad News About Handyman Websites
While a website can do tremendous things for your success as it has done for me and thousands of my students, just throwing up a basic website isn't going to do much for you.
A website by itself, with no strategy for generating traffic, is just like having a really nice business card. It will build trust with your existing customers, but very few new customers will find it and hire you.
Basically, there are things you must do for your website to show up in the search engines beyond just getting it online.
Regardless, it is an essential component of your online marketing strategy. And the first step toward having a good website, is just having a website. So for now, let's just focus on getting your website up and running and you can improve it later.
Build it Yourself or Hire a Web Designer?
Creating a website DIY style isn't for everybody. With all of the amazing tools available, it's easier than ever, but it will still take a bit of learning and some time.
I built my handyman business website from scratch and it took me a long time. Keep in mind that this was my first website and I did a LOT of research and testing along the way. Since then I've built many websites including the one you are on right now.
But should you build your own or hire somebody?
I recommend that you build it yourself, or at least have a close relative or friend follow this tutorial to build it for you. You will save a boatload of cash and you'll learn a valuable skill that will pay off in many ways in the future.
To hire a professional web marketing agency, you can expect to pay about $1,000 per month. That's outside of most handymen's budget.
Of course you could pay a college student $500 to build your website. But you get what you pay for. This might sound tempting, but it may end up costing you more time and frustration later when you try to make edits to your website down the road.
So again, I recommend building it yourself. It will take some time, but it's totally worth it and you'll be proud to show it off once you're done.
The good news is that you get to benefit from my experience as I plan to lay the process out in detail for you first timers. This should save you a significant amount of time and frustration.
If you follow my recommendations, you'll end up spending between $100 and $200 to get it up and running. Not to bad!
Let's get started!
Now that you know what you're in for, it's time to take the first step in creating your handyman business website: Choosing and Purchasing a Domain Name.
Click the link below to go to the next part of this tutorial.
Table of Contents