Jun 15 , 2016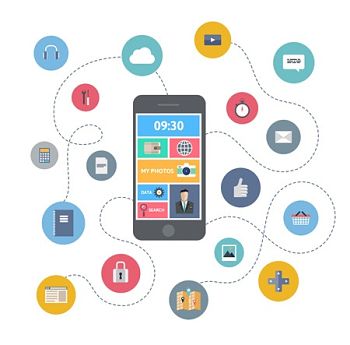 Software and apps can make running your handyman business much easier.
In fact, since I started my handyman business, I've operated almost entirely from my phone, only using my desktop for monthly accounting and marketing purposes.
When it comes to managing customers, quoting jobs, taking notes, tracking payments, taking credit cards, or scheduling, it's all done on this amazing little device they call an iPhone.
No paper what. so. ever.  I like it that way.  And, the best part is that all of this software is so affordable that anybody can use it.
Not only does this technology save me some serious paperwork headaches, it adds value to the customer and makes my business more efficient. I've had several customers tell me they like working with me just because I'm tech savvy.
So, if you're still walking around with a notepad, a schedule book, and a rolex of your customers, it's time to upgrade.  Here's how to do it so you can save time and look more professional.
Step #1:  Get A Smartphone
Personally, I'm a fan of the iPhone.  It's easy to use and you'll rarely find an app that isn't on the iPhone, whereas with other phones they don't have quite as many apps.
Based on this article in Forbes.com, developers make more money developing apps for iOS.  Since it's more profitable to create apps for the Apple platform, it stands to reason that more quality apps will be released for the iPhone.
Now, my intention isn't to sell Apple phones.  Any smartphone will work.  But, if you're trying to figure out which one to get, I'd go iPhone.
Step #2:  Choose A Customer Management Software
This is the most important and helpful app of all for simplifying your operation.  A good customer management system will not only keep track of your customers, but it can even keep track of you with cool features like notifications that remind you of upcoming appointments and even give you estimated drive times based on the current levels of traffic!
Uses:
Track customer information for future reference and easy access.
Send pre-formatted quotes to customers via e-mail (no need to build your own quote templates)
Send receipts to customers via email.
Take payment via email.
Track paid and unpaid jobs.
Keep a list of invoices and customer history.
Schedule jobs.
Manage Appointments.
Ideally you want an app that will do all of these things in one to keep things simple.
There are two apps that I have used and recommend.  ServiceCall and Breezeworks. Breezeworks is the better option in most cases, and especially if you plan on hiring employees.
(Available for iPhone and Android devices.)
Breezeworks has all the functionality of ServiceCall plus some other awesome features.
For example, you can sync it with Quickbooks and even take credit cards directly through the app.
There are several other bells and whistles that can make running your business easier as well.  Go here to download it and check them out. You'll even get a free trial.
There is a small monthly cost for this software, but it is the best overall software I've found so far.
ServiceCall 
(iPhone only)
ServiceCall is really easy to use and extremely cost effective at only $5.99, no monthly fees.
I used this software for about 5 years and I love this app. The only downside is it doesn't have as much functionality as apps like Breezeworks. It's simple, it works, and it will probably be pretty much the same for the next 10 years. If that's what you like, then give it a try.
Step #3:  Get a Credit Card App

Credit cards apps are awesome because they turn your phone into a credit card processing machine.  There are several to choose from and two of the most common are Square and PayPal.
Personally, I've used square because it works and I haven't had the need to try anything else. All I have to do is plug in the reader to my headphone jack, take a payment, and within a day the money is in my bank account.
However, there are many other options.
Square is easy to setup and the app is free.  You just need to pay a small processing fee (less than 3%) each time you take a credit card.
Some handymen don't like to take credit cards because they don't like to pay the fee.  As a one-man operation you really don't have to accept cards, but some customers prefer it over checks or cash.
Step #4:  Get Familiar With Note Taking Apps

Just like everything else, there are many apps to choose from for taking notes.  I use a combination of the native iPhone note app and Evernote.
Evernote is awesome because it automatically syncs with your home computer, tablet, or laptop so you can see your notes on any device. That means you can add a note on your phone while on the job, then pull it up on your computer later that night while writing up an estimate.
This is probably one of the most valuable free apps out there. There are alternatives, though, so go with whatever you like.
Uses:
Take job notes during a quote.  (you can even include pictures in the notes)
Keep a running list of supplies needed from the store.
Keep a running list of customers to follow up with.
Create checklists for common tasks.
Step #5:  Download Google Maps

I always think it's funny when customers start explaining how to get to their houses, like I'm really going to write down directions when I've got a GPS in my pocket.
As far as apps for navigation, Google Maps is my go to. However, I've also been using Waze lately since it helps me avoid traffic. If you live in a big city and often deal with traffic, I would recommend using Waze.
You can just use the native iPhone Maps app, but after showing up in a completely wrong part of town once or twice, you'll probably take my advice and download Google Maps.
Uses:
Guided navigation to your customers' homes.
Finding local hardware stores.
Finding local restaurants for lunch.
Step #6:  Setup Your E-mail
I'm not sure if being able to check your e-mail from your phone is a blessing or a curse. But, many customers want to communicate via e-mail instead of over the phone so you'll want to be able to check it from your phone.
If you're using an iPhone (or any smartphone), you can set it up to sync with multiple e-mail addresses.
So, if you have separate personal and business e-mail accounts you can have them both download to your phone.
And that's it!
As you can see, running your business on your phone is simple and cost effective.  Obviously, if you have employees things get a little more complicated. But for the one-man show, it's really easy to manage your business straight from your smart phone.
Do you have any other recommendations for Apps that help you run your handyman business?  Share them in the comments below.