Sep 11 , 2013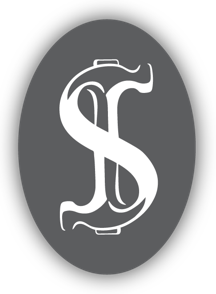 Welcome to my monthly income report!
If you're a new reader of the Handyman Startup Blog, here's what my income reports are all about.
At the end of each month, I gather all of my income and expense data to include in these reports. I include information like how much money I made, how much it cost me to make that money, and where I got my customers. I also share a ton of insight, tips, and lessons learned along the way to help you with your business.
So, if you run a home service business, there is sure to be some valuable insight to be gained!  I'm so open and share all of this because I want to help you (or somebody you might know) get more customers, make more money, and most importantly, enjoy what you do. 
Here's what I'll discuss in this month's report:
Super-customers and what they mean to your business.
Featured Service:  Honey-do lists.
The results from tracking all of my time for the month.
An update on my new video course.
Super-Customers?
Chances are that if you've been running your handyman business for a while now, you've attained a couple of super-customers.
What's a super-customer?
It's the term I've given to my best customers.  These customers consistently hire me, never even worry about price, are extremely appreciative, easy to work for, and always pay on time.  These are the customers provide me with the most income and they will be receiving a Christmas card from me this year.
Ever since I started my handyman business almost 2 years ago I've gained about 8 of these customers, one of which has provided me with over $15,000 in small jobs in the last year.
One of my favorite things about my super-customers is that price is not even an issue.  They just call me up, have me do the work, and I bill them.  I literally don't even have to give them an estimate before I start.  It makes it so easy!
They TRUST me, and that's the most important thing that I need to nourish in order to keep their business.
Trust is the reason they hired me in the first place, and my honesty and professionalism is what has kept that trust.  They trust me that I'll do good work and be fair and consistent with my pricing.  They also trust me to be in their home when their not even there.  They trust that I have their best interests in mind.
I can't say exactly how much of my income comes from these super-customers, but it is certainly a significant portion.  They are a critical part of my business.  This month alone, they accounted for $1,500 in income.  That may not sound like a lot, but knowing that they are likely to account for at least that amount next month is very comforting.
So how can you get super-customers?
The first question you should ask is "where can I find them?"   Unfortunately, I can't tell you where you'll find yours because they can be found anywhere.  They could see your truck while you're working down the street, they could be a lead provided by a lead generation company, or they could be from a referral.
Me.  I've gained most of mine through my website.
Once you have found one (which you won't know until much later than the first job), you need to keep them.  The cool thing is that this isn't very hard to do.  It's usually just a matter of doing what you say you are going to do and doing it well.  All of the principles of building trust and relationships apply.
Super-customers are a not uncommon either.  They are simply a result of providing a good service.  Once you find them, they will be loyal to you as long as keep their trust.  If you haven't yet found your super-customers, don't worry, it's just a matter of time.
Featured Service:  Honey-Do Lists
Here is a service that I didn't expect to be hired for very often, but has ended up being one of my top income generating services that I provide.  It's also what most of my super-customers usually hire me for.
A Honey-Do List typically consists of jobs like hanging pictures, fixing doors, touching up paint, caulking, hanging shelves, and several other really simple repairs that just take time.  I would have never thought that people would actually pay somebody else to go around and hang pictures, but they do.
Honey-Do lists are a good service to provide for a couple of reasons.
Quality clients.  Most clients that hire me for this type of service have money.  More money than most homeowners I service.  Unlike customers who hire you to repair something they don't know how to repair or build something they don't how to build, these customers are willing to pay you to do things they don't want to do.  Can they do it?  Sure, they just have enough money so they don't have to.
Not only do these customers have money, but they typically call you back again and again because there are always things to fix, install, or build around the home.
It's easy work.  Hanging pictures, touching up some paint, and fixing little dinky things around the house is pretty easy compared to larger projects.
Little experience necessary.  This is good if you are just started out or if you are looking to hire employees for your handyman business.  Since the work is low risk and not very complicated, just about anybody can do it as long as they have good customer service.
Whenever a customer is looking for this type of work, I always charge hourly.  Trying to sit there and estimate how long everything will take and quote each little aspect of the job is ridiculous.  Not only that, it's almost impossible to estimate and you'll either rip off the customer, or rip yourself off.
The downside of this type of service is that you don't really know how long it is going to take and it could end up leaving holes in your schedule.
If a customer says they have enough work for you to be there all day and you end up finishing in 3 hours, that's a lot of wasted time you could have scheduled somebody else.  This is something that has happened to me several times and I still haven't settled on a good solution.
(If you've got a solution to this problem, let me know in the comments!  I'd really appreciate it.)
Tips for success:
Charge hourly.  As I said earlier, it's not worth the time estimating and you will get it wrong anyway.
Work efficiently.  You don't have to be running around in a hurry, but leisurely working and taking a ton of breaks will lose your customers fast.
Prioritize.  Ask the customer what is the most important thing they want done.  Do that first.
If you aren't already offering fix-it lists or honey-do lists as one of your services, I recommend doing so.  It will bring you high quality customers, it's easy work, and it can be very profitable.
Income and Expenses:
Income:
Existing Customers:  $2,386.09
Online Marketing:  $2,884.00 (This is from leads generated by my handyman business website.  Click here to learn how)
Expenses:
Direct job costs:  $771.27
Mileage:  $274.03
Phone:  $69.82
Insurance:  $94
Tools:  $25.03
Bank Fees:  $21.49
Business License Fees:  $210
Total Income:  $5,490.49
Total Expenses:  $1,465.64
Net Profit:            $4,024.85 (last month:  $2,673.98)
Billable hours:  72
Income From Labor:  $4,642.09
Average Hourly Rate (billable):  $64.47
Overall, August was a pretty good month.  I increased my income from last month by about $1,400 and maintained an hourly rate of over $60.  Every month, I aim to hit at least $60/hour, so this is right about where I want to be for right now.
Taking a look at the income numbers you can see that the majority of my business came from my online marketing.  Typically, my existing customers provide me with the majority of my business, but this month I generated almost $3,ooo from my online marketing!  Not to bad considering I haven't been putting any effort into it since January of this year.
I really can't stress the importance of internet marketing for small business enough.  It has been the one thing that has allowed me to grow my business since I started.
If I didn't build my website the right way and put some serious effort into my online marketing, I wouldn't be in business right now. Period.  When I first started my business I put a ton of time into learning how to use the internet to effectively get customers.  It wasn't easy to sift through all the bullshit to find what actually works, but as you can see the effort was well worth it.
An inside look at my schedule:
This month, I painstakingly tracked all of my hours.  Not just the hours I worked for customers, but the hours that I spent shopping, quoting, researching, accounting, driving, answering the phone, packing my truck, and all of the other things that go along with this business.  Here are the numbers below.
Additional Hours:  29.25
Billable Hours:  72
Total Hours:  101.25
Average Hourly Rate:  $45.85
I spent almost 30 hours this month just running the business.  That means that 29% of the time I worked on my business I wasn't actually being paid.  That's a lot of time.
This additional time to run the business should help demonstrate the importance of charging a decent hourly rate.  As you can see above, when I include the additional hours I work when calculating my average rate, it only comes out to $45.85.
And, I'm pretty efficient in the way I run my business as you probably learned from my last podcast.  I try to spend as little time as possible doing things in my business that don't directly lead to income.
It's important to keep in mind that I only tracked my hours for 1 month so this isn't necessarily how it is every month.  However, I do think it is a fairly accurate estimate.  If I had to guess, my non-billable hours typically make up about 20-40% of the total time I spend on my business.
The below images show my schedule for 2 weeks of this month.  The green is the total time worked each day.  The red parts are the billable hours.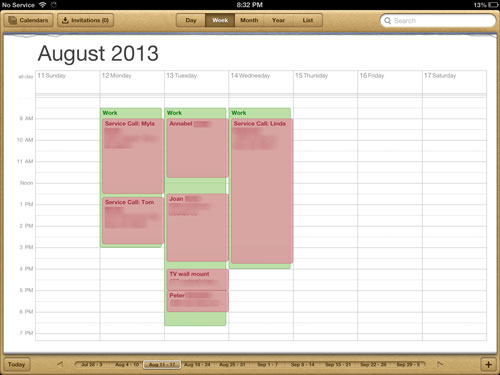 Example Schedule:  Week of August 12 2013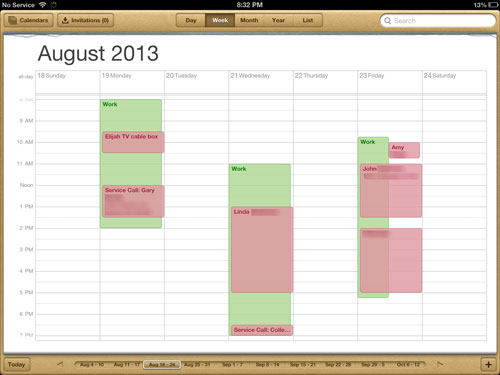 Example Schedule:  Week of August 19 2013
Monthly Goals
Last month I set the goal to complete my new Handyman Web Academy course.  I did it, but it wasn't easy.  Trying to find the time in between working as a handyman, a wedding that I was part of, and just life in general isn't very easy.  There were a lot of late nights working on it after I'd get home when all I wanted to do was relax and watch TV.  But, I powered through it and got it done.
And, I've officially set a launch date of October 1, 2013!  I'm really excited because this will be a game changer for many of you who are looking to grow or start your business.
The course is all about helping you build a website (the right way), get to the first page in google, and essentially get quality customers online.
I've seen way to many handyman business websites doing it wrong and wondering why it isn't working for them.  They'll build their site on platforms that limit them and lock them into contracts, not put the right content on the site, along with several other mistakes.
I want to help you avoid those mistakes and actually get results from you website so you can sit back and watch the phone calls come in.
That being said, I have two goals for this month.
Goal #1:   Launch the Handyman Web Academy on October 1, 2013
Goal #2:  Put on a FREE webinar on how to attract quality customers online.
>>>Click Here to check it out!
Thanks for reading and have an awesome month!