Dec 05 , 2013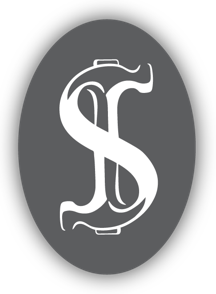 Welcome to my 24th monthly income report. That means I've officially been a handyman business owner for 2 years!
It's crazy how fast the time has gone and also how much my mindset has changed since I started. I mean, I went from charging $25/hour to demanding a minimum of $60/hour. I had no idea that was possible and I'm so thankful that I was able to achieve this success.
If you are new to the blog, I write these reports each month to detail my successes and failures. Not only that, I also share how much money I made, how much I spent, and what marketing methods brought me my new customers.
Basically, I'm giving you the roadmap to create a successful home service business for yourself.
If you're tired of working for a boss you hate, or not being in control of your schedule, this content is for you.  Or, if you are already operating a home service business and want to gain the edge over your competition, this is for you, too.
Why November Was Awesome
November was a BIG month for me. No, I didn't make a ton of money, but I did make some big, life changing moves.
If you listened to my last podcast or read my last monthly report, you probably already know that I took a week long vacation in November. If not, that's all good.
Well, I went to the island of Maui with my girlfriend and some friends. It was amazing! Hawaii is definitely one of my favorite places I've ever been. There is so much to do and the weather is incredible.
But, this trip was especially awesome. Not only did I get to snorkel with turtles, go on an epic hike through a bamboo forest, and watch the sunset from a hammock suspended between two palm trees while sippin' on some Jamison, I proposed to my beautiful girlfriend, Amy.
Like I said, I made some big life changing moves and I'm so thankful to have such an incredible fiance!
How To Take a Vacation When You ARE Your Business
One of the downsides of having a one man handyman business is that when I take a vacation, my business has to basically shut down. This can be a real challenge when certain customers rely on my services on a regular basis.
You don't want to lose your best customers because you aren't available and you also don't want to lose out on new quality leads.
It's impossible not to lose some business, but if you put a few simple systems in place before you leave for that beautiful island getaway, you can still capture the majority of those new customers and not piss off your existing ones.
Here is what I do to prepare for a vacation:
I change my voicemail to let customers know that I'm unavailable and won't be returning their calls until the date I get back. I don't tell them I'm on vacation, I simply say that I'm unavailable until x date.
I set up an auto-responder for e-mail quote requests to automatically reply when I get an e-mail to my business address. In the e-mail I include the same info that I do in my voicemail. (This is really easy to do with virtually all e-mail service providers.)
I mentally tell myself that I will not answer my phone or reply to e-mails while on vacation. Doing so is the best way to ruin your time of relaxation. Easier said than done, but it makes for a way better vacation.
That's it! The goal with this is to make sure I manage the customers' expectations. They'll understand if I don't answer my phone and they'll also understand that I take vacations. But, if I fail to communicate when I will get back to them, I could lose their business.
Here are the results from my week long trip to Hawaii
Number of new leads:  13 (voice-mails and e-mail quote requests)
New customers gained:  2 (after following up with leads when I returned)
Existing customers lost:  zero
From these numbers you can see that I clearly lost some business as I only landed 2 out of 13 leads. But, let's take a look at the bright side. While I was on vacation getting a sweet tan, my website was hard at work generating new business for me. You can't beat it!
Featured Service:  The Easiest Way To Repair A Broken Fence Post
Have you ever had to replace a fence post that rotted and then blew over in the wind? If not, you probably will at some point.
This is a service that's been requested since I started my handyman business. 99% of the time the post has blown over because the bottom of the post has rotted and then a wind storm blew it right over. It happens all the time.
This kind of project used to take several back-breaking hours to do as I highlighted in this post. However, I've recently discovered a much easier way to repair these broken fence posts.
No more digging out the old concrete footing, installing a new post, and pouring new concrete. Instead, just use a Simpson Strong-Tie Ez Mender. (click this link to check it out)
All you have to do is hammer one of these bad-boys into the concrete, throw in some nails or screws, and the fence is as solid as it's ever been.  Here are some images from a recent job to show you what I mean.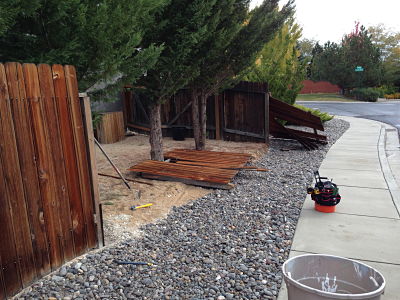 3 fence posts were rotted and had blown over.
Getting ready to hammer this fence mender into the existing concrete.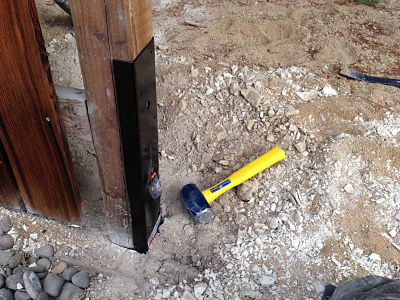 After about 75 hammer swings.  Almost done.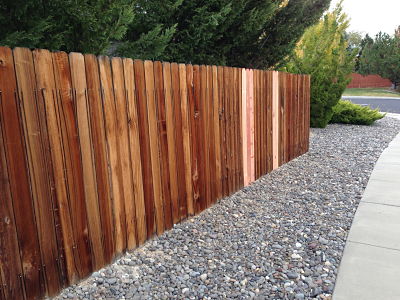 Repaired fence after only 3 hours of labor!
Using the old method, this would have taken me at least a day. But, by using the fence mender, I was able to cut it down to only 3 hours and make a much healthier profit while saving the customer money.
Total job Cost:  $345
Materials:  ~$55
Time:  3 hours
Profit:  $290 (That's 96 bucks an hour to fix a fence!)
Quick Tips:
I think the EZ-mender recommends that you use 2 per post. However, if you install a single one perpendicular to the fence as I've shown in the 3rd image above, you only need one.  If you're repairing the post that holds up the gate, then I'd use two.
Sometimes the EZ-mender is much wider than the hole in the concrete. Don't let this scare you. It will take more swings, but it will go in.
What do you think about this method for fixing fence posts?  Do you know an easier way?
Income and Expenses
Income (by lead generation source):
Existing Customers:  $3,270.41
Online Marketing:  $1,055.00
Referrals:  $413.56
Expenses:
Direct Job Costs:  $732.74
Mileage:  $305.67
Phone:  $69.82
Insurance:  $94
Tools:  $8.97
Bank Fees:  $22.48
Business License Fees:  $325
Annual Website Hosting:  $183.19
Total Income:       $4,738.97
Total Expenses:   $1,741.47
Net Income:           $2,997.10  (last month:  $3,867.39)
Billable Hours:  54
Income From Labor:  $3,932.96
Average Hourly Rate:  $72.83
Not too bad considering I took a week long vacation!
One number I'm happy about is the $72.83/hour. In the last few months I've been shooting for an hourly rate of at least $70/hour and I was successful this month. Please note that this is for billable hours and does not include time spent answering phone calls, driving, accounting, and other tasks that take up a significant amount of time.
If you compare my income sources to the last couple of months, you'll notice that my existing customers gave me a lot more work this month ($3,270). In fact, it's almost double the $1,758 I brought in last month. This fluctuation is to be expected with this business and you never know when you're going to get a flood of jobs.
Because I was so busy with my existing customers (and I only work 3 days a week), I had to turn down a lot of jobs. That's why my online marketing income was only $1,055. My schedule was booked with existing customers so whenever a new customer called and I told them I was 2 weeks out or more, they went somewhere else.
Having to turn down so many jobs is starting to make me think about hiring another handyman to help me out. Not sure how this will work out, but I'll have to think on it.
Monthly Goals
Last month I set the goal to take a vacation without disrupting my business. I'm going to chalk that one up as a success!
Goals for December
Goal #1:  Decide on a service to promote.
I haven't done any marketing for a long, long time.  Basically, I haven't had to because my website kicks so much ass.
But, it's time for me to step it up a notch.  This month, I want to decide on a specific service and actually try to promote it.  This service must meet the following criteria:
Easy to perform.
No contractor's license required.
In high demand.
Profitable (ideally $100/hour)
Something that doesn't vary much in time so I can have flat rate pricing.
Goal #2:  Complete Free Video Training
I'm planning to create some free training videos to help home services providers with their online marketing to promote the launch of The Handyman Web Academy.  I'd really like to get this done this month if at all possible.  If you're interested in learning how to get the phone the ring without breaking the bank, sign up here to get updates when the videos go live.
And that's it for this month!  I hope you enjoyed reading this as much as I did writing it! If you did enjoy it, why not share it with somebody else?