Aug 21 , 2013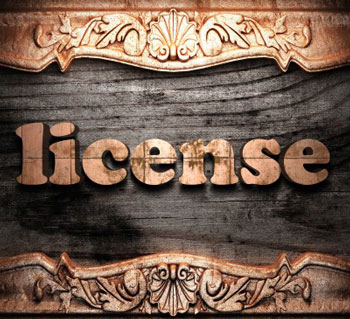 Unfortunately we can't just go out, buy a few tools, and start building houses. That's illegal without a contractors license and for good reason.
Without these laws in place, the quality of our homes would be seriously compromised. People who have no business in construction would be scamming and endangering homeowners (more than they already do). Despite my issues with the contractors board, I understand that law enforcers are a necessary evil.
However, there are many home services that can still be offered without a contractors license. In fact, I run a very profitable handyman business without one.  For me, getting licensed in a trade just doesn't make sense, at least not yet.
But the real question is should you get a contractors license?  Many of my readers have asked me this same question, and the answers I give might surprise you. Read on to learn what you should consider before studying and applying for a contractors license.
Disclaimer:  Construction law varies significantly in every country and state.  Make sure to check your local regulations to help you make your decision.
Benefits of getting a contractors license
I'm sure there are many more benefits, but here are the two primary benefits I see.
Gives you credibility – This credibility can help to build trust with your customers. It's important to note that there are other, arguably easier, ways to gain credibility, but this is a big one.
Higher earning potential – Having a license allows you to tackle larger and potentially more profitable jobs. Plus, many customers are more inclined to pay higher rates to licensed contractors as opposed to unlicensed handymen.
While these benefits make getting a license seem like a no brainer, here are some other things to consider before deciding.
How much contracting experience do you have?
If you are like me when I first started, meaning you have no experience bidding jobs, then a contractors license is probably the wrong choice.
For example, if you have never quoted a job, what are the chances that you are going to quote it accurately? Close to zero. And you'll probably quote too low which means you're going to lose money.
Trust me on this one. I've bid way too low on way too many jobs. In fact, I lost over 50 grand in my first year to underbidding small jobs. If I had to learn my lesson on $10,000 jobs, I'd be out of business begging for food on the streets.
Regardless of how skilled at home repairs and improvements you may be, there are several business skills you must develop before quoting big jobs. Business skills that are arguably more important than your handy skills.
FREE REPORT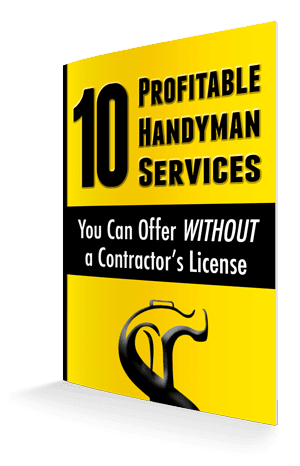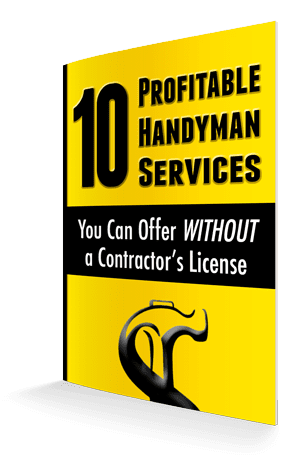 Learn 10 Profitable Handyman Services You Can offer WITHOUT a Contractors License
Stop waiting and start making money. Download this short PDF where I reveal ten of my most profitable, in-demand services that you can start offering today.
What services do you plan on providing?
Before getting a license, make sure you will still be able to offer all of the services you are planning to offer.
In many states, like Nevada where I live, getting a contractors license can actually limit the services you can legally provide. For example, without a license I can do just about anything as long as it's under $1,000 and doesn't include plumbing, electrical, or HVAC. This leaves a lot open.
If I was to get a contractors license, I would technically be limited to only performing jobs within that license. Meaning, if I got a carpenters license, I would no longer be able to legally offer painting, tile, drywall repair, and several other services that I occasionally offer, unless I also go licensed as a general contractor or for each individual trade. Even a general contractors license would limit my services.
Since I actually like the smaller jobs and quick repairs while doing a wide range of trades, a contractors license doesn't make sense for me.
Are you sure you want to provide those services?
Much too often people get licensed in a trade for the wrong reasons. Maybe because that is the trade they know how to do, or that is the trade they think they can make the most money. I recommend against this.
I'm a strong believer that you should enjoy what you do.
Without a lot of experience, it's hard to even know the types of projects you enjoy. I didn't know what types of jobs I actually liked doing for at least a few months and I'm still figuring that out.
I've actually talked to many contractors that don't like what they are doing. I even received an e-mail from a plumber saying that he hated plumbing! Too bad he put all that effort into getting a license.
So before getting a contractors license, you should be sure you like offering services related to that specific trade. Even though you may enjoy plumbing in your own home, this doesn't mean you'll like fixing other peoples toilets!
Here's what I recommend.
Before running out and getting a license right away, get some experience offering several services first. Starting out as a handyman is a great way to expose yourself to a multitude of different projects.
Not only will acquiring experience help you to choose a path you enjoy, but it will also help you uncover very profitable services that you didn't even think of.
Your handyman business experience will also teach you the business skills you need before risking your ass on huge jobs.
After a while, you'll know what you enjoy, what is profitable, how to get customers, and how to run a business. At that point you can graduate to the next level and go big with a contractors license.
Regardless of what you decide to do, make sure you understand your state laws by visiting your local contractors board website.
What do you think?  Is a contractors license right for you?
You DON'T Need A Contractors License To Start a Profitable Handyman Business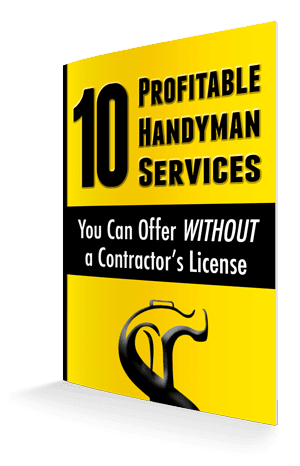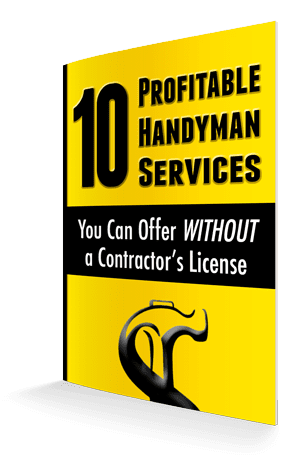 There are dozens of services you can start offering right now to start generating a profit. Learn 10 of the most common with this…
FREE REPORT: 10 Profitable Handyman Services You Can offer WITHOUT a Contractors License