Apr 06 , 2018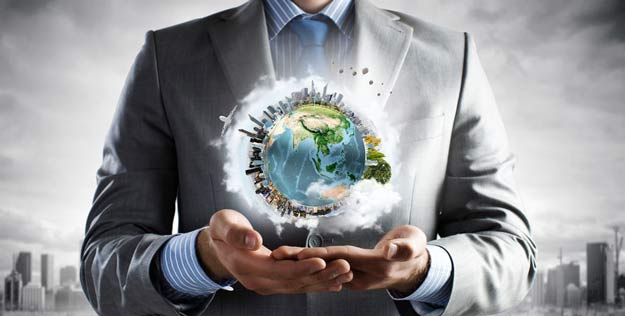 I don't know of a better time in history to be a professional handyman or contractor.
Our economy is growing.
Our society is becoming less and less handy.
Houses are getting more complex.
And people are outsourcing more of their lives every day in an attempt to do more, have more, and be more.
It used to be uncommon to hire a housecleaner. It was something only wealthy families did. Now it's normal for a middle class family to hire not only a housecleaner, but to hire mobile dog groomers, carpet cleaners, painters, lawn care services, dog walkers, nannies, and of course, a handyman.
Basically, there has never been such a high demand for our services. But the interesting thing is that as an industry, we are relatively unsophisticated.
While most industries have complex sales and marketing behind them, most handyman businesses are just a dude with a truck and some tools.
And I hate to say it, but for the most part, our industry sucks at marketing. Even though there is a high demand for our services, it's still challenging for homeowners to find good service providers.
That's why big companies like Home Advisor, ThumbTack, TaskRabbit, and even Amazon have created very profitable businesses selling customers to handymen, contractors, and other home service providers.
We have services that people want, but we suck at reaching our ideal customers. So these big companies attempt to connect us with the customers for a fee.
Every Lead You Buy Is Another Nail In the Coffin
For most small service professionals (especially those just getting started), partnering with these big tech companies seems like a good idea. They can just buy leads easily right now and outsource the headache of marketing altogether.
It seems like a no brainer at first, but it's actually a terrible idea in the long run. That's because these large tech companies are slowly becoming the go-to resource for homeowners who need a service. And, as that happens, they gain control over the industry – and your business.
Suddenly, they set the rules. They determine how much a lead costs. They can charge you for low quality leads and you'll have no choice but to pay. Anybody who's paid for leads knows they're already a huge hassle to deal with.
And, if things keep going this way, those big companies are going to gain even more momentum, become even more sophisticated, plant their brands firmly in America's minds, and soon they could be setting your prices as well.
The big companies will be optimized to offer the best possible value to their customers, while squeezing the small service providers that deliver the service to the point of razor thin profits.
The same thing has already happened in other industries. Just take a look at what Amazon.com has done to retail stores and many product brands. Often, brands have no choice but to sell their stuff on Amazon, but by doing so they are essentially forced to lower their prices.
These big tech companies have deep pockets and can afford to have the kind of long term, lose-money-now-to-gain-power-later strategy that catapulted Amazon into the small business crushing behemoth that it is.
And here's the thing. When you rely on others to do your marketing, they control your business and profits. If you rely on others to bring you work, you don't have a business, you have a job.
A Better Way to Reach Customers
There is a better way to reach your ideal customers that doesn't require you to hand over your hard earned profits (and future) to big tech companies.
It's no secret that the internet is the best way to reach potential customers whether you are selling home repairs or garden gnomes.
And since the home service industry as a whole is relatively unsophisticated when it comes to marketing, it's surprisingly easy to stand out online if you're willing to learn how to leverage the tools available to you. Yes, it will take time, money, and energy to learn this. It's not something that is just going to be done for you. But it's worth it.
Building a strong online presence is an investment in your business that will pay huge dividends. Here are just a few of the benefits you'll enjoy:
Lower cost to acquire a customer
Higher profits (you don't have to buy leads)
Higher quality customers (customers who are more aligned with your business)
More security with market shifts
More control over your business and customer experience.
So, instead of your business losing control over time, you actually gain more control and your profits grow.
Good marketing also benefits your customers. Assuming you offer a great service, you'll actually be helping customers by making it easier to find you. You'll also be helping them in the long run by cutting out the middle man.
So you have a choice. Right now you can leverage the high demand for your services and the fact that the competition is unsophisticated to grow your business. But things won't always be this way. The market will evolve.
There's a wave of opportunity, and you can either ride it or let it ride you.
Stop Paying For Leads – Use This One Strategy to Keep Your Schedule Filled Consistently
Don't pay another dime for low-quality leads. Learn how to attract high paying customers to your home service business consistently and reliably in this free report.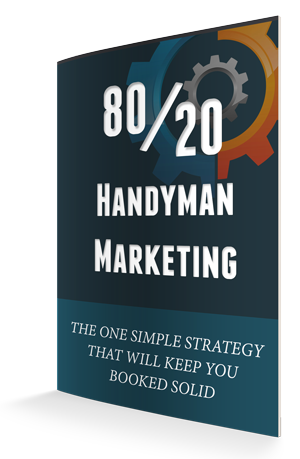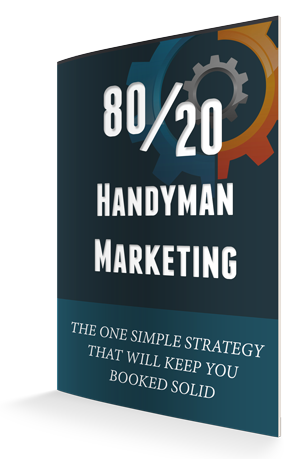 "80/20 Handyman Marketing"
You'll learn the one simple marketing strategy that will keep your schedule booked solid all year long without paying for leads.